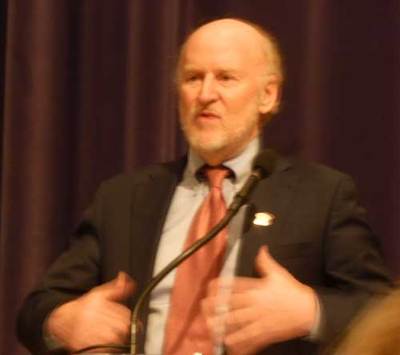 NEA Chairman Rocco Landesman, delivering opening remarks last month at an arts-education panel in Newark, NJ
Photo by Lee Rosenbaum

Rocco Landesman today announced that he will step down at the end of this year as chairman of the National Endowment for the Arts.
Landesman stated:
My intention has always been to serve one term and we have been able to accomplish more than I had ever thought possible: sparking a national movement around creative placemaking, forging significant relationships with other federal agencies, creating an unprecedented healing arts partnership with the Walter Reed National Military Medical Center, and increasing both the scope and impact of our research office….

The time has come for me to become a cliché: I turned 65, am going to retire, and cannot wait to spend more time in Miami Beach.
I bet he'll also spend more time in the NYC theater world, from whence he came.
After Landesman's somewhat bizarre response to my question last month about Republican attacks on NEA funding during the Presidential campaign, I had observed that Rocco's "lack of ardor for his grant-making agency made me wonder whether
Landesman might be 'seeking new challenges' next year, even if Obama is
reelected."
Now we know.
His "intention…to serve one term" was apparently not shared with Jamie Bennett, NEA's director of communications, who said this when I had asked if Landesman was planning to leave:
Not a clue. We have all said we will wait and have those conversations on Nov. 7 [Election Day].
Landesman managed to keep the NEA on an even keel, relatively free of politically damaging controversy. And he is to be praised for increasing coordination with other federal agencies. But I was disappointed that he did not champion the restoration of artists' fellowships, which he had indicated he favored when I interviewed him for my Nov. 3, 2009 Wall Street Journal profile.
Here's an excerpt from that piece:
Mr. Landesman believes the time has now come to reinstate grants to
individual artists–a program eviscerated when NEA ran afoul of Congress
during the so-called culture wars. Only grants for writers have
continued.

"We're the National Endowment for the Arts and we should be supporting
artists," he persuasively argues. To achieve this, the former producer
of "Angels in America" is willing to make concessions to congressional
taste, by deferring to the legislators' problematic "decency standards."
These require NEA grantmakers to take into account "general standards
of decency and respect for the diverse beliefs and values of the
American public."
Even if that was too much of a political football, he should have done more to address the funding priorities of his constituents—the cultural community—rather than diverting significant time and financial resources to NEA-initiated research studies and to his own "creative placemaking" initiative. The next NEA chairman should pay more attention to ideas that percolate up from the field on how best to address the needs of the agency's cultural constituents.
NEA's senior deputy chairman, Joan Shigekawa, will serve as the acting head of the agency until a successor is confirmed.