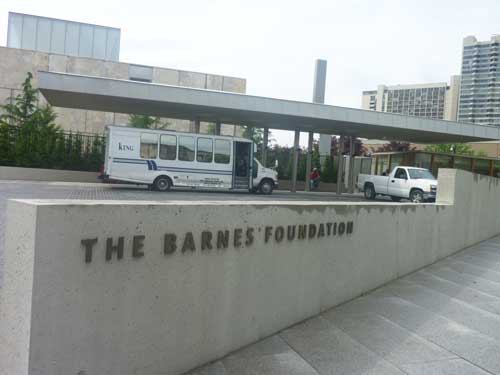 The drop-off entrance at the new Barnes Foundation (Ellsworth Kelly's "BarnesTotem" juts out above the canopy, to the right of the museum building)
Photo by Lee Rosenbaum
Because I didn't only go to the Philly Barnes's press preview in May, but also went Back to the Barnes in June (plunking down $18 for my ticket, as normal visitors do), I found myself on the receiving end yesterday of this e-mail from Mark Mills, the Barnes Foundation's senior director of external affairs :
Thank you for visiting the Barnes in Philadelphia. We hope you enjoyed our new building and the collection.
You are one of a very select group invited to provide input about your visit.

This information is essential to ensuring that future visitors have a great experience at the Barnes [and also, I suspect, to ensuring well targeted marketing]. For participating, you will have an opportunity to win a private tour of the collection for 10 people, and receive a code that provides a 10% discount on any purchase at The Barnes Shop online.

Please VISIT HERE [linked] to take part in this short survey [emphasis added] before midnight, Sunday Dec. 2. This survey is for research purposes only…
…or maybe not. The URL of the link that takes you on the online survey begins with this:
http://donate.barnesfoundation.org/
At the end of the survey, you are asked to provide your e-mail address "for the opportunity to win a private tour of the Barnes." I suspect the resulting e-mail list may be also used "for the opportunity" of soliciting new donors and/or members.
In any event, this "short survey"—actually (as you will see) quite voluminous—sought information on where I lived; how I had learned about the Barnes; how many times I had visited it in Philly and in its original home in Merion; why I had visited; what offerings I had sampled (i.e., the coffee bar, restaurant, gift shop, and, of course, "visiting the collection").
Then came the the opportunity to rank things on a scale of 1 to 5; the restaurant (not so hot), the "amount of personal space in the galleries" (are they thinking of admitting more or fewer visitors?), "ease of navigation through the galleries," "quality of the Barnes shop."
Then we had to rank how satisfied we were with such things as "friendliness of staff members," "ease in finding parking" and "quality of the collection." When I came up with the wrong answer on whether the Barnes had exceeded, met or fallen short of my expectations, the survey gave me a chance to elaborate, in my own words:
Q: What could the Barnes do to improve your experience?

A: Return to Merion, where the experience was more satisfying.
Just call me "a diehard."
The next question seemed to address my lament head-on:
Overall, would you say your experience at the Barnes on the Parkway [it's never called, "the Barnes in Philadelphia"] was better, the same as or not as good as your experience at the Barnes in Merion?
You already know my response on that one.
Then they wanted to know the likelihood of my returning in the next 12 months and of my recommending a visit to someone else, They also asked what I might be interested in returning for (i.e., special exhibitions [see below], classes, lectures, etc.).
Then came the demographic questions: age, education, race, marital status, income level.
The last question gave me a chance for comments:
Is there anything else you'd like to tell the Barnes?
I guess I've said quite enough in my blog.
I think that whether visitors will come back within the next 12 months will depend in large part on the quality of offerings in the temporary exhibition gallery. There's some breaking news on that front: The Barnes yesterday announced a planned show of Ellsworth Kelly wall sculptures (May 4-Sept. 2)—works that seem to be commissioned for almost every new art museum or contemporary wing: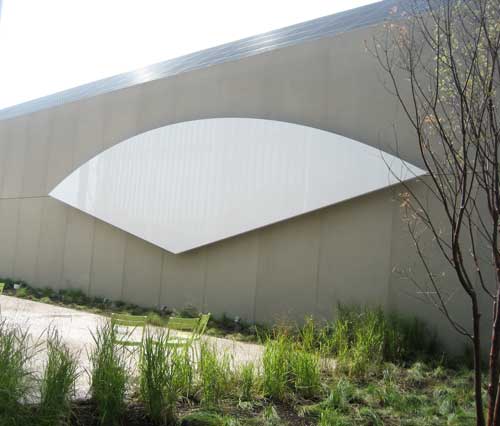 Ellsworth Kelly, "White Curve," 2009, painted aluminum, commissioned by the Art Institute of Chicago for the outdoor garden of its Renzo Piano-designed Modern Wing
Photo by Lee Rosenbaum
A great favorite of the Philadelphia Museum of Art's late director, Anne d'Harnoncourt, Kelly is practically an adopted citizen of that city, with a street named for him that intersects Anne d'Harnoncourt Drive, right in front of the PMA. (CORRECTION: I've now learned that the street was, in fact, named for a different Kelly. Wishful thinking on my part!):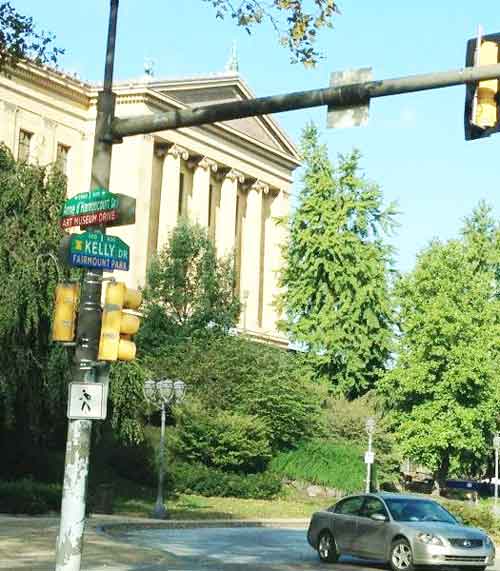 Photo by Lee Rosenbaum
The signature work in the Barnes' new show will be Kelly's "Sculpture for a Large Wall," which was commissioned for the Philadelphia Transportation Building. It was removed for that facility's renovation in 1998, when it was acquired by the Museum of Modern Art.


Ellsworth Kelly, "Sculpture for a Large Wall," 1957, Museum of Modern Art
Photo by Matthew Marks Gallery
A less crowd-pleasing but more Barnesian show would have been one that I had been told was under consideration when I spoke with the foundation's officials last May—an exhibition devoted to an American artist who is well represented in the Barnes' collection: William Glackens, Barnes' high school classmate, who became both his good friend and his advisor on art purchases. A Barnes spokesperson told me a Glackens show is still anticipated, with dates to be announced.
Now that the opening rush has passed, there seems to be considerable online ticket availability every day. In addition, "premium tickets" are now being offered at $45 a pop on weekends at 9 a.m., giving the well-heeled a chance to "enjoy the legendary Barnes collection with a limited number of other guests before the galleries open" to the general public. And in addition to the astonishingly pricey $40 docent tour, you can now also choose a $75 "premium tour."
Whatever happened to the current regime's stated desire to honor Dr. Barnes' expressed concern for extending the rewards of art to "the plain people"?