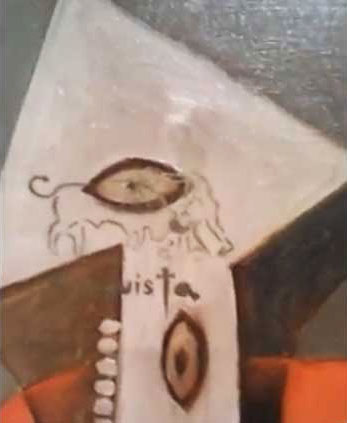 Screenshot from a visitor's video showing last June's defacement of the Menil Collection's Picasso, "Woman in a Red Armchair," 1929, still in conservation
If he wanted to encourage copycat vandalism, James Perez, owner of Cueto James Art Gallery in Houston, could have done no better than to give a one-man show to the suspect in the attack on the Menil Collection's Picasso.
In addition to giving the alleged graffitist the attention he craves, Perez is getting national publicity for his own gallery, thanks to this execrable enterprise. The Associated Press reports that the dealer "expects a full house for Friday's opening of 12 works" by the alleged vandal. We can only hope that principled people will boycott.
Proceeds from gallery sales from this show, if any, should go straight to the crime victim—the Menil—to defray its costs in conserving its defaced Picasso. And Perez should be roundly and publicly condemned by his professional peers for his deplorable endorsement of art vandalism. Would he similarly encourage visitors to start defacing the offerings at his own gallery? Would the alleged perp like a taste of his own medicine at his own show?
Meanwhile, in my continuing "Where are the Guards?" crusade, the National Gallery, Washington (the scene for two of my photos in this post decrying inattentive guards), apparently still hasn't gotten the message. When I visited the revelatory, deeply insightful Roy Lichtenstein retrospective (to Jan. 13) last weekend (where the biggest clusters of visitors were focused not on the eye-popping Pop but on the lucid, illuminating wall text), the lone guard in one gallery was deeply engrossed in something he was reading in a black binder. When he realized I was observing him, he started pacing around the room.
In an adjoining gallery, another guard was intently composing something with pen and paper, completely oblivious to what was happening around him. And in another part of the museum, CultureDaughter (who joined me at the National Gallery) caught sight of a sentinel absorbed by his smartphone, facing a wall, back turned to the gallery.
Clearly, these troops need more discipline in a hurry.
In regard to guards, I was happy to hear Robert Wittman, former FBI special agent investigating art crimes, emphasize the importance of museum security's crucial human ingredient in recent comments to NPR's Scott Simon:
Security is three things. The first is electronics and surveillance;
which is your cameras, your motion detectors and alarms. The second is
human resources….It's the guards; and having them trained, having their patrol routes,
you know, laid out for them, having protocols set up. And the third
thing is procedures, …making sure that the alarms are on
before you leave at night; making sure that the cameras are working
correctly. And if you have all three of these things, okay, you have a
fairly good security system.
But back to Houston, where a Menil spokesman whom I recently contacted could only say that the investigation "is ongoing" and "we cannot comment beyond that." We now learn from yesterday's AP report that the suspect whose crime is being rewarded with gallery exposure is "on the lam" but "will speak with attendees via Skype at Friday's gallery opening."
Perhaps dealer Perez can provide the police with some useful information on how to contact him.