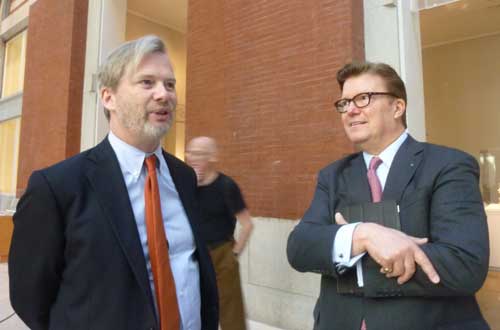 Two veteran "newcomers" (to their current institutions), meeting at Metropolitan Museum's Lehman Wing during the Bernini show's press preview
Left: Luke Syson, Metropolitan Museum's new curator in charge of European sculpture and decorative arts
Right: George Shackelford, Kimbell Art Museum's new deputy director
Photo by Lee Rosenbaum

We haven't heard much about what Luke Syson is up to at the Metropolitan Museum, where he arrived last January as the new curator in charge of European sculpture and decorative arts, filling the former position of Ian Wardropper, who moved up and out to become director of the Frick Collection.
So when Luke showed up three weeks ago to make introductory remarks at the press preview for the Met's Bernini: Sculpting in Clay (to Jan. 6), I took the opportunity to ask about what he's been working on. (Syson was pinch-hitting for director Thomas Campbell, who was in Japan for the opening of Earth, Sea, and Sky: Nature in Western Art—Masterpieces from The Metropolitan Museum of Art, which will also travel to Beijing.)
He gave me some tantalizing details about a high-concept show (not just another retrospective) that sounded truly fascinating, but he said that I couldn't share this with you because it had not yet received all the necessary institutional approvals. However, as you will see below, he did openly discuss his thoughts on another important undertaking.
Let's digress for a moment. though, to the Bernini show, which I'm hoping to discuss in more detail (with video) in a future post. After the dispiriting "Regarding Warhol," "Bernini" marked the Met's welcome return to form, with its exemplary scholarship due in large measure to Wardropper (who was already hard at work on the project when he was tapped by the Frick) and to his co-organizer, C.D. Dickerson III, the Kimbell Museum's curator of European art.
The first work visitors encounter at the show's entrance is this Met-owned early Bernini (the only marble in the show). Executed when the artist was still a teenager, it "attests to why he was an immediate sensation in Rome," as Wardropper noted: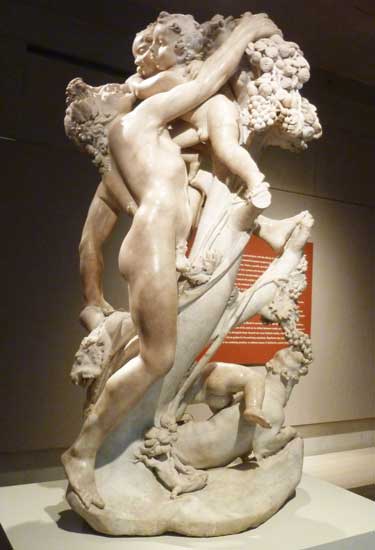 Bernini, "Bacchanal: A Faun Teased by Children," c. 1616-17, Metropolitan Museum of Art
Photo by Lee Rosenbaum
The show's undisputed star among the terracotta models that are the show's focus is this Kimbell-owned sculpture—Bernini's largest clay model and the most highly finished example in the exhibition. It was the basis for one of the figures populating the celebrated fountains of Rome's Piazza Navona (featured in the photo mural that is the model's backdrop in the Met's installation):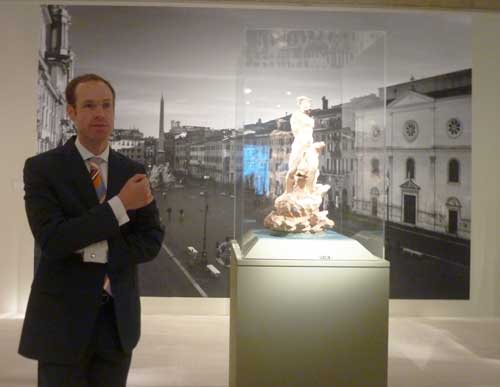 Curator C.D. Dickerson III discussing "Model for the Fountain of the Moor," 1653, owned by his Kimbell Art Museum
Photo by Lee Rosenbaum
Now back to Syson: While he couldn't talk on the record about his tentatively planned major exhibition, he was happy to be quoted on how he hopes to rejigger the Met's permanent collection of European decorative arts. Bear in mind as you read this that he is best known for his European paintings expertise, as exemplified by his most recent gig as curator of Italian paintings before 1500 and head of research at the National Gallery, London, where his swansong was the widely acclaimed Leonardo show.
Rosenbaum: What ideas do you have about installing the Met's permanent collection? Are there any changes you'd like to make?

Syson: I think people have gotten out of the habit of really looking hard at gold or silver or ceramics or furniture. I think if it's presented in an exciting enough way, people will be able to see these things as pioneering examples of design, extraordinary abstract shapes or virtuoso examples of craftsmanship, in a world that appreciates the amazing craftsmanship that goes into Jeff Koons' "Michael Jackson," which I don't personally find beautiful, but it isn't meant to be.

What I'm beginning to think about is how to really get people looking at this material again, by varying the rhythm in the galleries, by adding some sort of drama and excitement to the displays.

What we're hoping to do over the next couple of years is start the process of making it clear what object we would want a visitor to most concentrate on. I think we sometimes give people too much choice and I think curators' jobs are to say, "This is the one we really love, that we think is really special"—not just the masterpieces of the collection but also one that's an outstanding example of something we have a lot of: an amazing gold snuff box or an extraordinary Renaissance portrait medal….

One of the things that we can do is pose questions and also say that we don't have all the answers: "We know this; we may never know that. And that's up to you to decide."

The other thing that's probably worth saying is that people always come to the works of art with baggage that can build up over time. People's reaction to French 18th-century furniture, for example, can be, "Thank goodness there was a revolution!" Or it can be, "This is the most marvelous moment in the history of European art." [We should] get the point across that stylistic decisions made by artists and our own responses to them now are almost a moral thing: They're loaded. This isn't a neutral space.
Then I asked if he could get more specific, and he discussed an object in the Met's collection that, as he readily conceded, was almost as unfamiliar to him as it would be to the average Met visitor—this chair: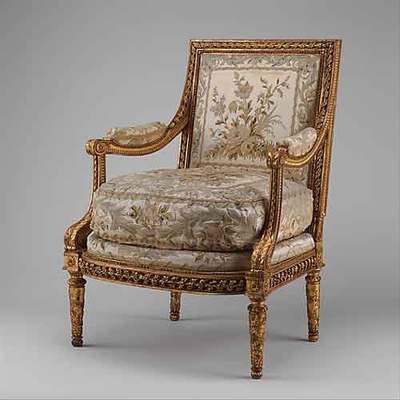 Georges Jacob, Armchair, French, c. 1780-85, Metropolitan Museum of Art
Rosenbaum: Can you give me one example of an object and how you would treat it?

Syson: All right. There's a chair [above] in the French 18th century galleries. I'm not, as you know, an expert in this area at all [emphasis added] and I therefore going to get a bit hazy about some of the details of it. But there's a chair that, when I first looked at it, I thought, "Okay, I don't know the names of any of these people whose made it, or made the fabrics [possibly embroidered by Joseph-François-Xavier Baudoin], or so on."

But when I started discussing it [presumably with the Met's decorative arts experts], I realized that this was a type of chair that was invented in this period. This was the moment when this type of chair reached its apogee and it's remained absolutely consistent ever since.

One is looking at a moment of pioneering design in the 18th century, and that's an extraordinary revelation to me. And I wanted to share that revelation and the idea then that the textiles were the most important part of that object and that the wood carving was a framing for it. [That struck me as decorative arts seen through the eyes of a paintings expert.]

This chair was so successful because it was incredibly comfortable, but actually, protocols of the day were that no one ever sat on it! Therefore, it became an object for viewing. All of those things help much more than knowing the name of the owner.

Somebody told me, very helpfully at the beginning of this time [at the Met], that if you want to really get excited about a chair, you look at it in a three-quarter view [as in the above photo], and you can see how the back and the arms all fit together. If you look at a chair head-on, then you're never going to understand it completely as a three-dimensional object. So we might think about turning a chair, rather than lining them up against walls.

It's simple stuff, some of it.