Late this morning, this intriguing announcement landed in my inbox from LA MOCA: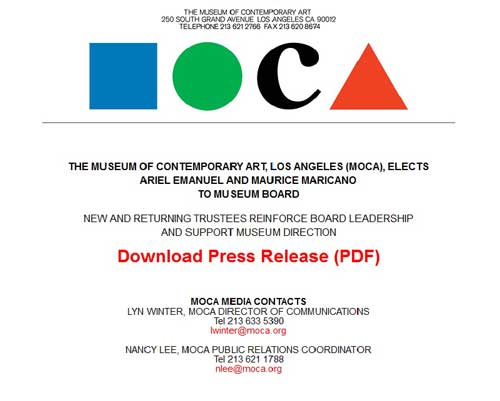 This seemed eminently newsworthy, especially since director Jeffrey Deitch had promised to the LA Times that he would beef up his battle-scarred board with "two significant new trustees…within days." (That was on Aug. 4.)
I was even more interested in learning what the press release would say regarding the above assertion that "new and returning trustees reinforce board leadership and support museum direction."
With alacrity, I clicked the "Download Press Release (PDF)" link, and got jolted by this: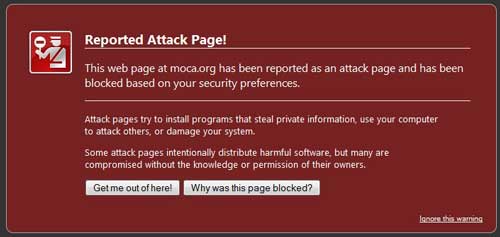 As Monty Python would say, "Run Away!" Panicked, I hit "Get me out of here!" and tried to go to MOCA's website directly, which got me the same red label. All right then, I could still do a web search to learn more about the new trustees:
Ari Emanuel is brother of Rahm (Chicago's mayor) and "has emerged as the pre-eminent power player in Hollywood," according to the NY Times.

Maurice Marciano is founder and chairman of Guess? Inc.
But what we really want to know is, can any of these guys get MOCA's compromised website up and running?
Meanwhile, assuming that MOCA itself hasn't been infiltrated by saboteurs, departed chief curator Paul Schimmel will make a brief (if not triumphant) return to his former domain on Oct. 7, when he is scheduled lead a walkthrough and discussion of his swansong exhibition, "Destroy the Picture: Painting the Void." (I can't link to any of this, as is my custom, because doing so will only get you this:

Forget about a supportive board. What MOCA really needs is a savvy webmaster!