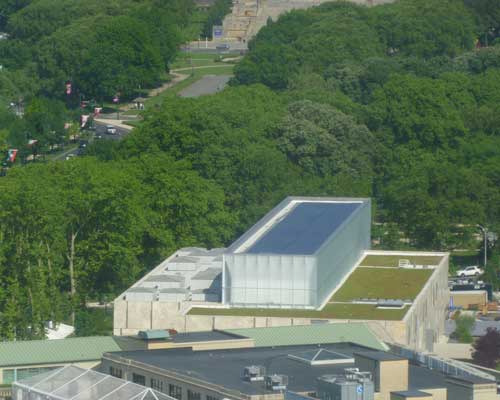 The Barnes Foundation's green roof
All photos by Lee Rosenbaum

The Barnes Foundation has just announced that at 2 p.m. today its Tod Williams– and Billie Tsien-designed new facility will receive LEED Platinum certification from the U.S. Green Building Council (USGBC), making it "the first major art and education institution in the country" to achieve this highest level of recognition for environmental responsibility.
My birds-eye photo, above, shows the Barnes' green roof on the right and the gallery mock-ups on the left, where monitors
measure the sunlight to help regulate the lighting in the galleries
below. The cantilevered light box in the middle admits filtered and diffused illumination into the sprawling event
space.
USGBC president and CEO Rick Fedrizzi praised the Barnes for "diverting 95% of construction waste from landfills as it redeveloped
this brownfield site to a building with anticipated energy savings of
44% over a traditionally designed equivalent." He called this "a marquee project, not only for Philadelphia but [for] the country."
This provides me with a news peg for my latest Barnes photos, taken during my brief visit to Philadelphia last weekend. I didn't go inside again (having already visited twice), but I did wander around the outside, on my way to have a look at the glorious restoration of the Philadelphia Museum's Rodin Museum, next door to the Barnes: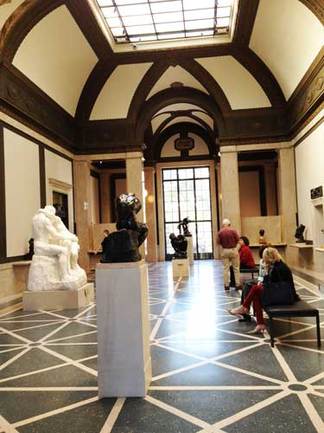 Main hall of the Rodin Museum, Philadelphia

I was happy to see there's now lots of foot traffic on this portion of the Benjamin Franklin Parkway, which used to be nearly deserted. And I was also pleased to discover that there was easy access to metered street parking on the parkway late Friday afternoon, obviating the need to shell out big bucks for a garage or the Barnes' parking lot.
The ivy on the bare walls that I groused about in this video from last May's press preview is starting to fill in and the outdoor benches are being put to good use: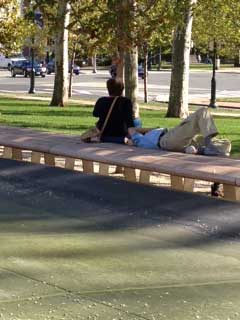 But the waterless water feature out front, which had been concealed within a party tent on my initial visit and was exposed but still dry on my second visit, remains waterless: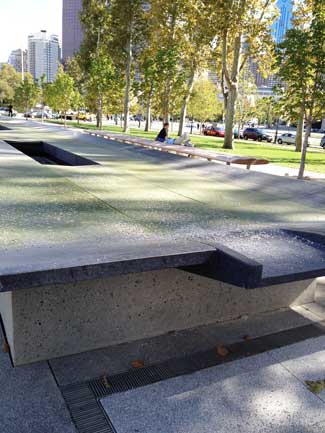 In
addition to the LEED award, the Barnes says it will reap a
"significant rebate" from PECO (the local electric and gas company) as part of its Smart Construction
Incentives, which reward commercial and industrial customers and nonprofits with
rebates for the use of energy-efficient building products.
UPDATE: The Barnes has just posted a video about its LEED coup, which shows the "dry" fountain flowing nicely, seen behind the institution's executive director and president, Derek Gillman.