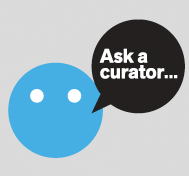 It's just getting underway on these shores, but across the pond, Ask A Curator, today's Twitter-based conversation with museums around the world, is in full swing.
Here's a clickable list of U.S. museums that will cheerfully entertain your inquiries. The Museum of Modern Art and the Whitney are on board, but not the Metropolitan Museum or the Guggenheim. [CORRECTION: The Solomon R. Guggenheim Museum is listed. I was looking for "Guggenheim" on the alphabetical list.] LA MOCA and the J.Paul Getty Museum are; the Los Angeles County Museum of Art, not. [UPDATE: LACMA's communicatons director, Miranda Carroll, informed me that contemporary art curator Franklin Sirmans did participate, although his museum was not listed on the "Ask A Curator" site.] Some museums, like the Tate, below, appear to be responding in real time, in the true Twitter spirit. Others, like the Getty (where it's not yet 9 a.m., at this writing), are planning to "circle back tomorrow" with answers.
Not much complexity can be achieved in questions and answers limited to 140 characters each, but some of these exchanges are surprisingly pointed and substantive.
Here are a couple of recent examples from the Tate. (Remember: You must read these from bottom to top, to get the proper chronological sequence.):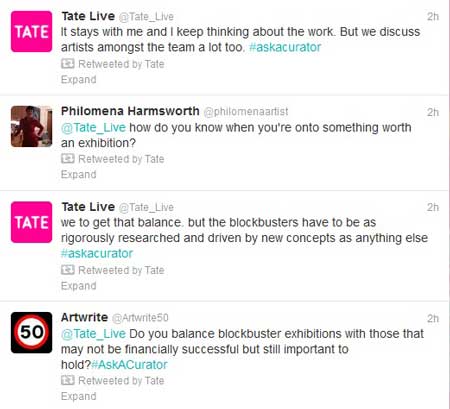 And here are a couple of exchanges with Helen Little, the Tate Britain's assistant curator of modern and contemporary British art, currently working on the forthcoming [L.S.] Lowry and the Painting of Modern Life. (Again, read these from the bottom up.):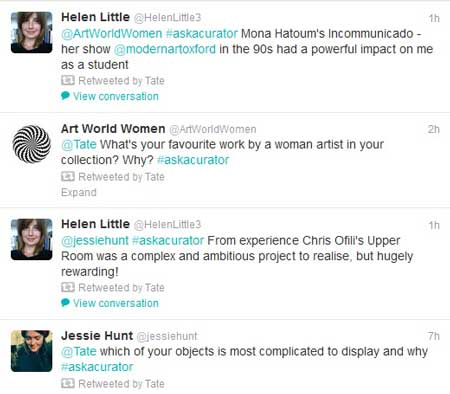 If all goes well, maybe these interactive free-for-alls should become a regular (monthly?) feature! (Can we follow up with "Ask A Director"?!?)