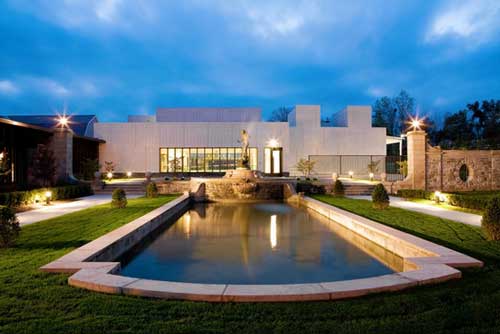 Image of Arkell Museum from its homepage
By Jonathan Hillyer
I was amused by this idealized image of the Arkell Museum at Canajoharie, which appears on the museum's homepage and is the sole illustration for my Wall Street Journal article today that focuses on this art-rich, cash-poor, under-the-radar museum.
If my praise of the Arkell's collection induces you to take a fall-foliage trip to the Mohawk Valley, don't expect to be wowed by this seeming Xanadu. It's really a modest-looking building, designed to echo the big (now abandoned) Beech-Nut factory building across the street. Unfortunately, I didn't manage to photograph the exterior of the Arkell, because it started raining heavily (normally a good thing for museum visitation, but the place was almost empty on the Saturday afternoon when I visited).
Before the deluge, I did manage to photograph the factory. You can see its yellow "For Sale" sign on the right: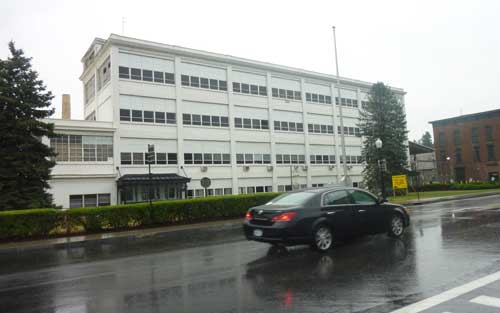 Former factory of Beech-Nut Nutrition Corp., whose founder, Bartlett Arkell, also founded and donated art to the museum that now bears his name
So that you can get a better idea of the works that I discuss in my article, below is a slideshow of my photographs, which includes three additional works that didn't have space to mention in my piece:
—"Head of an Italian Woman," c. 1881, an alluring, exotic beauty by John Singer Sargent, which the nearby Fenimore Museum, Cooperstown, had borrowed
two years ago for a show devoted to that artist's female portraits

—Thomas Hart Benton's lively "New England RFD Carrier," c. 1923

—A large portrait of Arkell himself, who presides over the museum's original (pre-expansion) art gallery, the grand and idiosyncratic space that you'll see in the first slide
I would strongly suggest your watching this in "full-screen" mode, by clicking the icon in the right corner at the bottom of the video screen, after you click the center arrow. (Click on that corner again to exit from full-screen mode.)