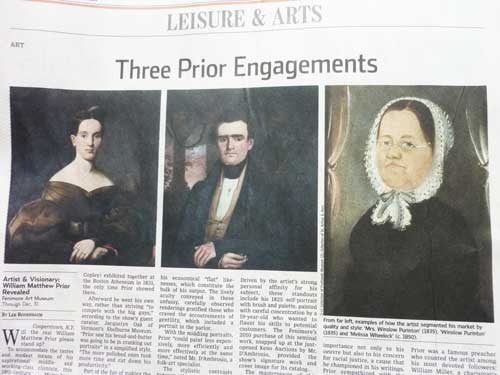 All photos by Lee Rosenbaum
Until my Wall Street Journal articles are actually published, I never know what their related images or headlines are going to be. I was greatly pleased when I opened today's paper to inspect my Three Prior Engagements review of the Fenimore Art Museum's William Matthew Prior retrospective. The line-up of portraits (left to right) that were chosen by the editors exemplify Prior's three distinct styles. as discussed in my piece—"middling" ("Mrs. Winslow Purinton," on the left), "academic" or "sophisticated" ("Winslow Purinton") and "flat" ("Melissa Wheelock," right).
The relative scale is a bit misleading, however: The humble Melissa, painted on cardboard, is actually a tiny picture compared to the more well heeled Purinton couple, befitting the affordable price of the "flat" paintings—about $2.50 in 1850 (the rough equivalent of $70 today). Prior is credited with inventing "sliding-scale" pricing, based on relative simplicity of style, to take into account the modest financial resources of his middle- and working-class clientele.
You can get a sense of how small Melissa is by comparing her with the size of the labels in this installation shot of her (lower right) with three other small portraits, all painted in Prior's "flat" style and each completed by him in about an hour: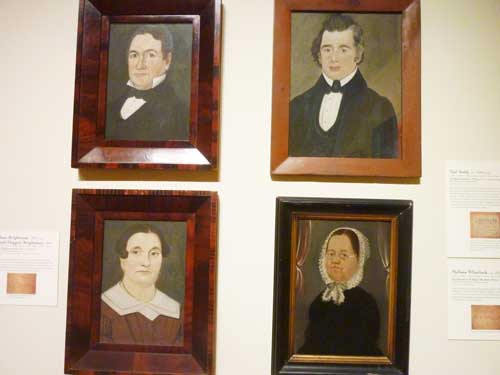 I don't want to leave the Prior show behind without providing you with images of the works discussed in my piece that didn't make it into the WSJ layout or
yesterday's CultureGrrl Video
(scroll down), in which the Fenimore's president,
Paul D'Ambrosio
, took us on a tour of a few highlights from the exhibition.
Here's the painting that I called "the most powerful portrait in the show," depicting a man of great consequence, whose career included stints as a U.S. Congressman, U.S. Senator,
Massachusetts attorney general and Daniel Webster's law partner:
"Rufus Choate," c. 1845
Below is the image, reproduced on the portrait's wall label, of a Southworth and Hawes daguerreotype of Choate from the same year, which (as I said in the piece) failed to capture the sitter's "profound gravitas" (as Prior did):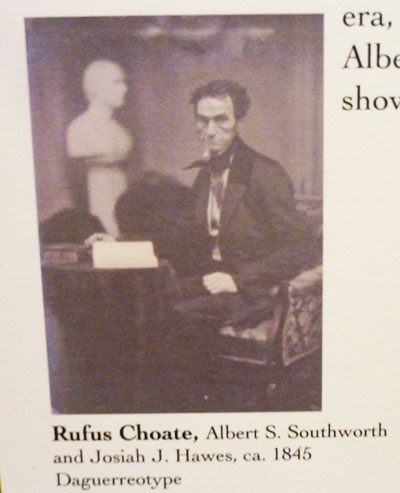 And here's the African-American child "whose preternaturally sage expression," as I wrote, "stands in contrast to Prior's customarily sweet, simple children":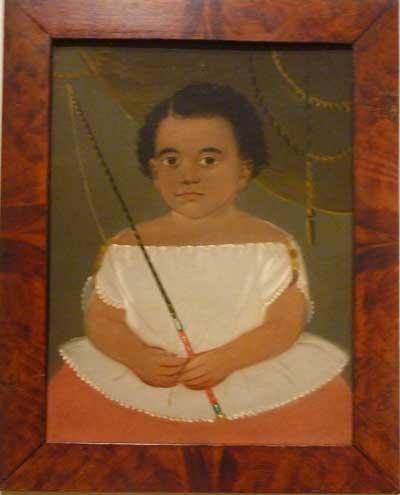 "James Copeland," 1857
Before we leave Prior (but not Cooperstown), I want to end with a still image of one painting that also appeared in my video—the exquisitely sensitive portrait of an unaffectedly beautiful African-American woman, which D'Ambrosio and the show's guest curator,
Jacquelyn Oak
of the Shelburne Museum, VT, regard as the show's masterpiece: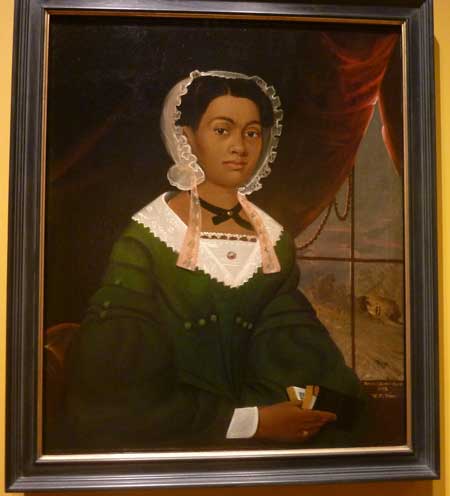 "Nancy Lawson," 1843
Finally, here's a close-up of Prior's signature in the lower right of this portrait, uncharacteristically (for him) affixed to the front of the picture. D'Ambrosio (in my video) described this as a "courageous act"—a conspicuous statement of Prior's commitment to the cause of racial justice: