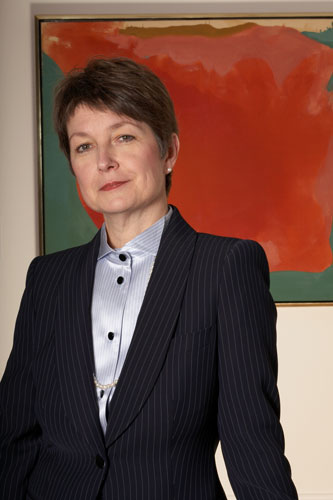 Dorothy Kosinski, in front of Helen Frankenthaler's "Canyon," 1965
Photo: © Mary Noble Ours
It's not uncommon for art museum directors and visual artists to be named to the National Council on the Arts, the advisory body to the National Endowment for the Arts, which reviews NEA's grants, guidelines and initiatives. (James Ballinger, director of the Phoenix Art Museum is currently one of the NCA's 19 members, who also include lesser-known visual artist Barbara Ernst Prey (scroll down), who was a George W. Bush appointee.
It's news, though, when an art museum director joins the advisory council for NEA's sister federal agency, the National Endowment for the Humanities (NEH). That council is largely composed of past and present professors of history, politics or literature.
So it's nice to report that President Obama has just announced his nomination of Dorothy Kosinski for a spot on the National Council on the Humanities. The director of the Phillips Collection, Washington, since 2008, Kosinski joins one other NCH member with visual arts-related credentials—Dawn Ho Delbanco, an adjunct professor of East Asian art at Columbia
University who, since 1991, has taught both Western and Asian art there.
Speaking of the NEA, it has just announced yet another round of grants for The Big Read, a federal great-books project introduced in 2006 under NEA's previous chairman, Dana Gioia, that I thought would be long gone by now. It's politically popular (given its wide geographic spread) but otherwise of marginal relevance for an agency with a mandate to promote contemporary creative expression.
Soon after Rocco Landesman's appointment by President Obama as NEA's chairman, I interviewed him for a Wall Street Journal profile and expressed my misgivings to him about The Big Read (as well as about another great-books program—Shakespeare in American Communities). In direct reference to those NEA-spearheaded initiatives, Rocco replied:
We're working on all that. Some of these programs
consumed massive resources and I think we have to take a hard look and
see what's the best use of our limited funds.
On CultureGrrl, I had dismissed The Big Read as "duplicating everyone's middle school and high school reading list. It should either change its focus to privileging contemporary literature, or else decamp to the U.S. Department of Education."
If you peruse the latest list of grants, you'll see what I mean. Given NEA's limited budget, the $1 million disbursed for a federally funded easy-reading book club could be much better spent—to support working artists, for example.