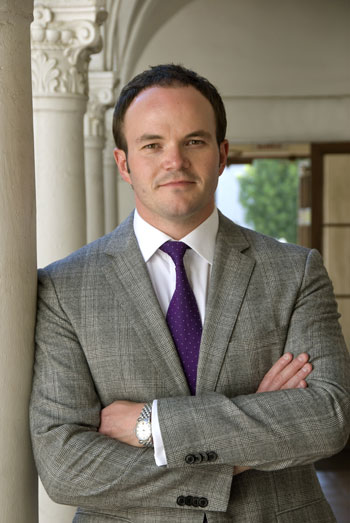 Christopher Bedford, incoming director of the Rose Art Museum, Brandeis
At long last, Brandeis University's resurgent Rose Art Museum, Waltham, MA, has named a new permanent director, according to Bill Burger, Brandeis' associate vice president for communications: Christopher Bedford, chief curator of exhibitions at the Wexner Center for the Arts, Columbus, Ohio since late 2008, is a British citizen with an intriguing track record of contemporary art exhibitions, as evidenced by this excerpt from his bio on the Wexner's website:
Bedford…curated "Six Solos," "Hard Targets" (a multimedia show exploring sports and masculinity) and "Mark Bradford," the first museum survey of the artist's work, which toured the country. He also curated "Human Behavior: Nathalie Djurberg" and "Pipilotti Rist: The Tender Room," a newly commissioned site-specific installation. He has also organized a small Susan Philipsz show and an Alyson Shotz project for the Wex.

For the two years prior to joining the Wexner Center, Bedford was with the Los Angeles County Museum of Art as assistant curator in the Department of Contemporary Art. Bedford is working on various projects with Chris Burden, as well as an exhibition of Paul Sietsema's work for the Wexner Center in 2012. Before going to LACMA, Bedford served as a curatorial assistant and then consulting curator in the department of sculpture and decorative arts at the Getty Museum.
The appointment of a director for the previously embattled Rose is a long awaited, very welcome development. Bedford will take charge of a recently renovated building, which I visited last November: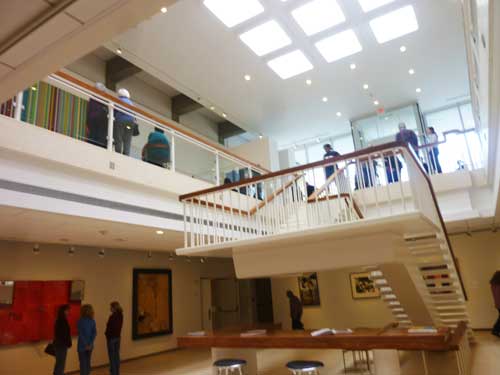 The renovated (and populated) Rose Art Museum
Photo by Lee Rosenbaum

Here's the exterior:

Photo by Lee Rosenbaum
But some of the best recent news about the Rose has been under the radar: The museum's Rent-a-Rose contract with Sotheby's expired uneventfully on Dec. 31. In a dicey fundraising gambit, Brandeis had engaged the auction house to attempt to lease out portions of the museum's superlative collection. No lease was ever signed, and now "that chapter is closed," according to Burger, the university's spokesperson.
Burger has been Brandeis' interim communications head since, Andrew Gully, the university's senior vice president for communications and external affairs, astonishingly jumped ship for Sotheby's. He will be the auction firm's senior vice president and worldwide director of communications, replacing long-time veteran Diana Phillips, whom I will greatly miss (although I also like Gully, who ably navigated through the firestorm that erupted after former President Jehuda Reinharz announced his now abandoned plan to support general operations by selling the museum's artworks). Diana was unfailingly and expeditiously helpful, knowledgeable and cordial in fielding my not-always-softball questions over her 27 years at Sotheby's. (Brandeis' student newspaper, The Justice, reports that Gully will assume his new Sotheby's role on Monday.)
And there's another surprising (actually, unorthodox) Brandeis-Sotheby's connection: George Wachter, the auction house's co-chairman worldwide of old master paintings (and a board member of the Frick Collection), was named in February as the new chair of the Rose's Board of Overseers.
As you may remember, the Rose's staff has been headed by Roy Dawes, director of operations, ever since the June 2009 departure of the museum's former director, Michael Rush, who landed on his feet as founding director of the Eli and Edythe Broad Art Museum, Michigan State University, which is scheduled to open on Nov. 9.
Meanwhile, back in the Boston area, the Museum of Fine Arts has just been savaged in a sweeping critique by the Boston Globe's art critic, Sebastian Smee.
Here's Geoff Edgers' just published report of Bedford's appointment in the Boston Globe.
UPDATE: Brandeis' official announcement says that Bedford, 35, will assume his post on Sept. 15 and has already enunciated several goals:
One of his top priorities, Bedford said, will be "to commission a major work of public sculpture for the exterior of the museum that connects to ideas of social engagement and social justice. Those concepts are central to my thinking and to the core ideology of Brandeis, too.".

He said he feels it is essential to begin thinking about expanding the museum and making it a destination point for social activity both on campus and in the region.