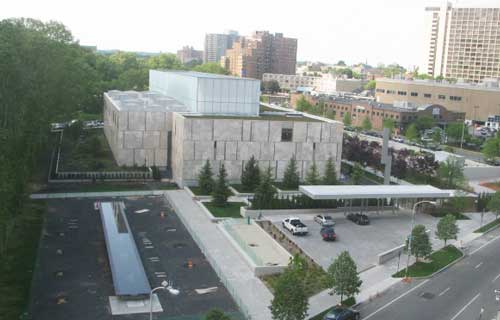 Almost done? The new Philly Barnes, as seen today from its webcam

I'm planning to visit and report on the new Philly Barnes Foundation in two weeks. You, art-lngs, can help make this possible! (More on that at the end of this post.)
On Sunday, the Philadelphia Inquirer will scoop us all (or at least most of us) with a special section on the Barnes Foundation's new facility in Philadelphia, which opens to the public on May 19 and to most of the scribe tribe (including me) three days earlier.
The paper's upcoming weekend Barnes coverage (announced at the end of this article on the feverish final preparations in the Tod Williams, Billie Tsien-designed building) will be "filled with photos, interviews, profiles of Albert
Barnes and others, stories about the extraordinary art collection and
the battle over its move. On the paper's front page, critics Inga
Saffron [architecture] and Edward J. Sozanski [art] will assess the new arrival."
Saffron has previously written a rave review [link no longer active] regarding the architectural plans. Sozanski has (like me) been one of the sharpest, most persistent critics of the move. I assume that, also like me, he will will strive to assess the relocated and rejiggered Barnes on its own terms, reluctantly accepting what cannot be changed—the loss of a beloved, serene refuge for the contemplation of great masterpieces. Whatever the Barnes may be, it's going to be very different from what its founder envisioned and what subsequent visitors have fondly appreciated. That was then; this is now.
It's clear from the descriptions and images that have leaked out so far that the detailing of the galleries (including moldings, walls and floors) and even some gallery heights (taller) will not precisely replicate the interiors of the original Paul Cret-designed mansion in Merion.
More worrisome, for me, is the introduction of ample (but filtered) natural light in all the galleries (some of which will display works on paper, including Cézanne watercolors). The entire top floor will be skylit (with diffused light).
The Inquirer's Amy Rosenberg, in her report last Sunday on the preparations, suggested some possible complications, noting that "temperature controls" that were not yet "as steady" as the Barnes would like (as described to her by Dennis McGeady, engineer for the project).
In comments for Rosenberg's article, Bill McDowell, the Barnes' project director, indicated that "building a home for art with as much glass and as many windows as this
one is pretty much unheard of in the modern era….It
invites complicated security and aesthetic concerns."
Still surprisingly unannounced is what the inaugural display will be in the facility's new special exhibition space—something that the old Barnes lacked.
If you'll be interested to read my take on all this, I hope you'll click my "Donate" button (middle column) in support of the Send CultureGrrl to Philadelphia Challenge. My two-weeks goal, to defray my two-nights hotel cost, is $450. (Food, tolls and gas are on me.)
Meanwhile, many thanks to the Repeat CultureGrrl Donor who recently demonstrated her generous appreciation of my knee-crunching efforts to bring you this post. (Fortunately, no aging joints were permanently harmed by my film.)