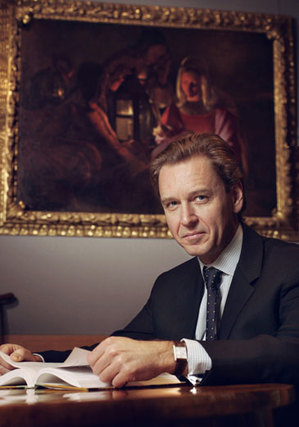 Timothy Potts, Getty Museum's director-designate
No Getty Museum director has been so bedeviled by controversy before even assuming his post.
First, Timothy Potts, who comes on board Sept. 1, told me in an interview that he hadn't yet "seen a document on the details" of the Getty Museum's highly important (and unusually stringent) antiquities-collecting policies—an oversight that roiled archaeologists and others, in light of the Getty's checkered past concerning the acquisition of antiquities later returned under duress to Italy and Greece.
Now the institution that Potts currently directs—the Fitzwilliam Museum at Cambridge University—has been in the news for all the wrong reasons—the Friday-the-Thirteenth theft of 18 Chinese jades from its galleries. Images of all the purloined objects have been posted on Cambridge University's Flickr site.
Making bad matters worse was the disclosure two days ago of important details regarding the Fitzwilliam's alarm system (and its shortcomings), as reported in an article by Raymond Brown published by the Cambridge News (not affiliated with the university).
One thing I've learned in my decades of writing about museums is that (for obvious reasons) they NEVER disclose details about their security setups, let alone their alarm systems' vulnerabilities.
I don't blame Potts for his prior lack of full knowledge about the Getty's antiquities-collecting policy. From my KCRW radio conversation with Getty President James Cuno, it was clear that the top man plays down the ways in which his institution's guidelines go beyond the standard 1970 "bright-line" rule. It was Cuno's responsibility to make sure that Potts received a copy of the Getty's unusual guidelines and that he agreed with them.
I also don't blame Potts for the shockingly inappropriate disclosures in the press about the alarm system. It appeared from the Cambridge News article that the information came from the police (who certainly should have known better than to release such information), rather than from anyone at the museum.
One thing's for certain though: Security at the Fitzwilliam had better be beefed up mightily and immediately: More Chinese jades are coming (as well as gold, silver, bronze and ceramics) in a 350-object loan exhibition from China, opening May 5. The Search for Immortality: Tomb Treasures of Han China is billed as "the largest and most remarkable exhibition of ancient royal treasures ever to travel outside China" (and, hopefully, to travel back).