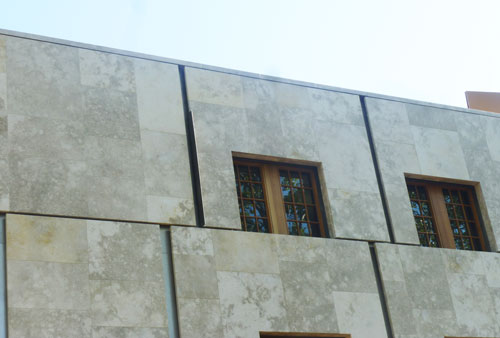 Close up of the exterior and windows of the Barnes Foundation's new Philadelphia facility, opening May 19
Photo by Lee Rosenbaum
Two readers respond to Rent-a-Barnes: Disregarding the Founder's No-Parties Intent:
Robert Zaller, professor of
history and politics at Drexel University,
informs me there were plenty of parties (notwithstanding the prohibition in founder Albert Barnes' trust indenture) at the Merion Barnes. Zaller was
the author (with Tom Freudenheim) of an LA Times opinion piece questioning the Philadelphia Barnes' long-term financial sustainability:
Parties at the Barnes have been routine since [former president Richard] Glanton's time, and of course we all recall the gala bash
in November 1995 when the Barnes "masterpieces" came home from their
world tour. I attended a private reception there myself once for
Merrill Lynch investors.

The new museum, to avoid financial disaster, will need all the weddings,
confirmations and bar mitzvahs it can get.
Richard Ingunza, a New York collector, writes:
I really enjoy you blog, articles, etc. However, I think that you have already covered the Barnes Foundation's move in full. Your views on the topic are well known by your readers and your recent posts haven't really provided any new news on the topic. There are so many other things going on in the art world and on which your readers would love to hear your views.

I will leave you with this final thought: The Philly establishment was nasty to Dr. Barnes and Dr. Barnes was nasty back. Dr. Barnes did not want his collection housed in Philly, not because he did not like the city, but because of disputes and disagreements and slights and arguments between himself and members of the Philly elite. But all these people have been dead for many, many, many years. So it's time to move on.

Dr. Barnes had a longstanding connection with Philadelphia and would probably be very proud to see his collection begin a new century, in a new home, in the city that gave so much to him and to which he gave so much in return. More importantly, I'm sure that Dr. Barnes would be incredibly pleased with the fact that his collection is going to be seen by many, many people in its new home, and that it will continue to be used as a fantastic and wonderful educational tool for the underprivileged, exposing thousands and thousands of Philly schoolchildren to art, many of them for the first time.