Zeus, we hardly knew you. When you were catalogued by Sotheby's for its Dec. 8, 2011 sale, you looked like this: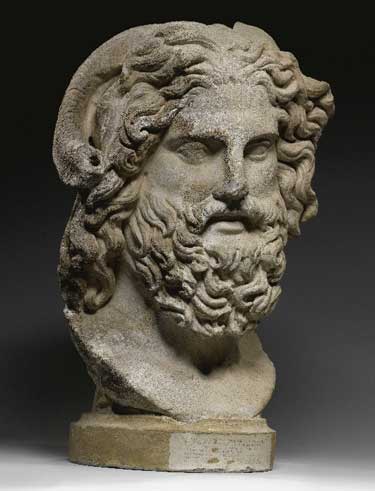 Marble head of Zeus Ammon, Roman Imperial, c. 120-160 A.D., bought
at Sotheby's by Metropolitan Museum for $3.55 million (presale
estimate: $800,000-$1.2 million)
But when I saw you yesterday, installed near the entrance to the Leon Levy and Shelby White Court for Greek and Roman art at the Metropolitan Museum (which was the successful bidder at the Sotheby's auction), you looked like a changed man: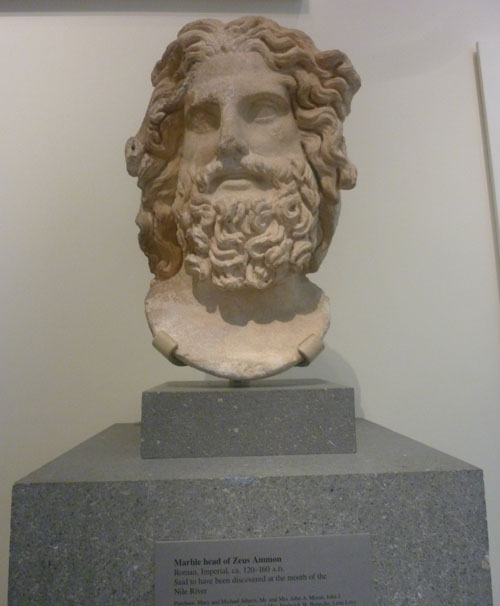 Photo by Lee Rosenbaum
They gave you a spiffy new base and, as it seems, a very thorough cleaning—altering your tonality from a dark, brownish gray to a creamy ivory. After your makeover, you've gone from looking grave and formidable to appearing more mild and approachable. But your beard and coiffure are still marvelous, darling.
According to the Met's label, this marble head was "said to have been discovered at the mouth of the Nile River." The auction house's catalogue entry (click "Catalogue Notes & Provenance") however, made this sound more like lore than history: "It came with a story [emphasis added] that it had been found at the mouth of the Nile." You know how these antiquities tend to come with "stories."
In any event, it was known to have been on the market in the 1930s and was acquired by the late Dodie Rosekrans (from whose collection it was sold) in 1954. So the provenance should satisfy the antiquities watchdogs always on the lookout for recent looting.
It's nice to know that American museums can still occasionally manage (scroll down) to enhance their antiquities collections with important objects.