Now, alas, you can. [UPDATE: And now,alas, you can't.]
The video below will also give you a glimpse of what the main gallery will look like in the new Barnes Foundation, which opens to the public on May 19, after it completes the move from its longtime home in Merion, PA. Tickets will cost $18, compared to $15 at the old facility. (So much for making it more accessible to the "plain people," which the Barnes has repeatedly cited as one of the reasons for the move.) However, there will be no service charge for Philly Barnes tickets, according to Barnes spokesperson Andrew Stewart, who noted that there was a $4 fee added to the $15 Merion tickets.
And here's a slideshow that, along with the video, accompanied today's Inquirer article by Stephan Salisbury. You can compare the four images of the new gallery with the final image, showing the celebrated mural as installed in the Paul Cret-designed mansion where Dr. Albert Barnes intended his collection of Impressionist, modern and other masterpieces to remain in perpetuity.
In other Barnes news, the foundation announced last week that it had commissioned a 40-foot-high, stainless steel Ellsworth Kelly monument, "The Barnes Totem," to stand sentinel at the end of a long reflecting pool outside the new facility, designed by Tod Williams and Billie Tsien. The Barnes said that the Kelly signals its commitment to engage with the contemporary art at the new facility (which will include a 5,000-square-foot space for as yet unannounced loan exhibitions).
In this rendering, the new Barnes is the ivory-colored building on the right: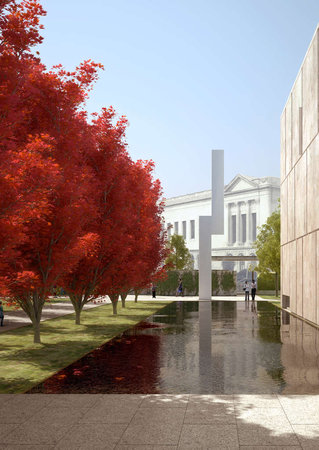 Ellsworth Kelly, "The Barnes Totem"