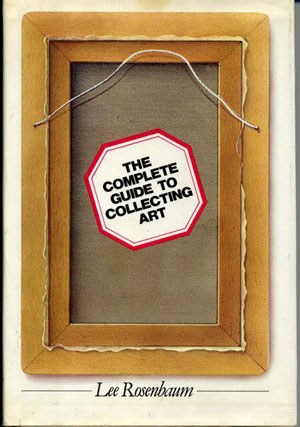 Yesterday, in my post about the latest skirmish in the cultural-property wars, I reproduced a passage from my book, The Complete Guide to Collecting Art (Knopf, 1982), which contained some revealing remarks by that late antiquities collector and benefactor of the Metropolitan Museum, Norbert Schimmel.
It occurred to me that some CultureGrrl readers may be curious to see the rest of the book. Although the artworld in 2012 has changed tremendously from the world I wrote about some 30 years ago [Internet? What's an internet?], the basic principles of informed collecting still pertain.
If nothing else, you may enjoy my juicy quotes from the legendary luminaries of that era whom I interviewed—collectors Paul Mellon, Richard Brown Baker, Ben Heller, Edward Carter; dealers Leo Castelli, Eugene Thaw, Klaus Perls, André Emmerich, Sidney Janis, Richard Feigen; art historians John Walsh (who later became the Getty Museum's director) and John Rewald; then director of fine arts at Christie's, Christopher Burge, among many others.
Speaking of reminiscences about legendary collectors, Milton Esterow, editor and publisher of ARTnews, will be speaking at the Metropolitan Museum on Mar. 28 about "What makes a great collector?" His examples (as detailed in the description of his talk) will consist largely of acquirers from the past.
My book is l-o-o-n-g out of print: Amazon, at this writing, has one new copy available, for $73.27 (including shipping). My "Donate" button has been sluggish since my Last-Gasp Fund Drive, so I thought I'd give you a new way to contribute to CultureGrrl—a "Buy Now" button (in the righthand column).
While my stash lasts, an autographed copy of my 264-page Complete Guide to Collecting Art can be yours for $50 (including shipping). That's more than its list price of 30 years ago, but unused copies are scarce. The book contains an extensive bibliography, including reference works on various specific areas of collecting compiled for me by members of the Metropolitan Museum's curatorial staff.
Consider it a CultureGrrl fundraiser with benefits.