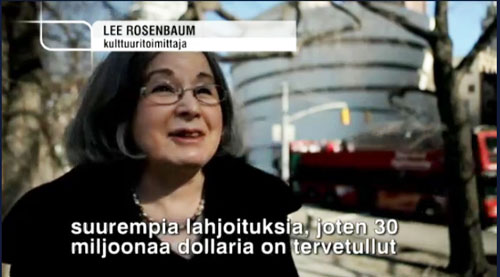 Lee Rosenbaum, kultuur itoimittaja ("cultural journalist" to you!)
You can see me now on Finnish television—the online replay of yesterday's segment on Finnish Broadcasting Company YLE about the Guggenheim Helsinki, for which I was interviewed in Central Park (scroll down) on Tuesday.
I was, of course, the main reason why Olli-Pekka Sulasma
and his trusty cameraman came up from Washington (just kidding), but
while they were in the area, they also stopped in on the Guggenheim's
deputy director, Ari Wiseman, whom you'll also hear on the
two-minute video linked at the top. He expresses respect for the political process in
Helsinki (where the City Council plans to take up the Guggenheim matter
at the end of this month) and he explains why the Guggenheim wants to plant
its flag in Finland.
Everything (except for Ari's and my contributions) is in Finnish, so I don't
know the context in which they put my quotes. (Would any Finnish-fluent CultureGrrl readers like to help me out with this?)
Thanks to Google Translate, I can tell you what the title and online description of the segment say:
Guggenhem Seeks Additional Income: The U.S. Guggenheim Foundation says that it does not have a strict time limit on when a decision must be made on participation in the Helsinki museum project. Although the Foundation withdrew from Berlin, it is still committed to the international expansion of its operations.
Speaking of Berlin, Wiseman's chat with Sulasma had the unfortunate timing of being scheduled just after the news broke that the Deutsche Guggenheim, a modest space funded by Deutsche Bank, with changing exhibitions and major commissions, would close at the end of this year after a 15-year run. No one is saying why, but the announcement came soon after Deutsche Bank reported a 69% plunge in fourth-quarter profits, due in large part to investment banking losses tied to the European sovereign debt crisis. (A Guggenheim spokesperson denied there was any connection.)
Although I don't have an English translation of the anchorman's comments leading into my two cameos, I can tell you their context in my a 20-minute conversation with Sulasma. My flip observation about the $30-million licensing
fee that would enrich the Guggenheim's endowment was part of a much longer
response to the question of what the Guggenheim stood to gain from a Finnish
outpost. This is the 2010 annual report (the most recent online) to which I alluded. On p. 59, chief operating officer Mark
Steglitz states that the Guggenheim Foundation is "financially stable" but "is still challenged by a relatively small endowment."
At the end of our discussion, Sulasma sought my overall opinion on whether Helsinki should do the deal. My take on this, which I explained at greater length than you will hear in the clip, is that a sophisticated, culturally rich city like Helsinki shouldn't feel a need to rely on
Americans to oversee a new cultural institution. A new museum, if needed, should grow out of the city's own cultural fabric and be masterminded and developed by its own art community. Any relationship with foreign professionals should be characterized by collegial cooperation, not costly colonization.
To prepare for my TV close-up, I needed to
come to grips with the Solomon R. Guggenheim Foundation's $2-million,
186-page feasibility study
promoting the proposed Guggenheim Helsinki. I'll have more to say on this later.
But for now, I'll acknowledge that the public availability of the full text of the feasibility study is, in itself,
groundbreaking. That kind of full disclosure didn't happen under the
directorship of Tom Krens, who invented the "Global Guggenheim" concept, with very mixed results. The more open management style of current director Richard Armstrong
and the Finnish government's own culture of transparency are both
to be thanked for allowing us to read and analyze the proposed project, which differs in many respects from previous incarnations of the Global Guggenheim.