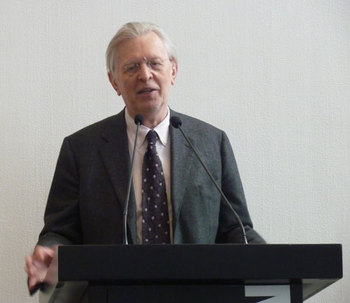 De Kooning Devotee: John Elderfield, chief curator emeritus of painting and sculpture, Museum of Modern Art
[Part I is here.]
Just when I was feeling the old art-exhibition ennui, 2011's two standout U.S. blockbusters—John Elderfield's de Kooning: A Retrospective at the Museum of Modern Art (to Jan. 9), and George Shackelford's and (from the Musée d'Orsay, Paris) Xavier Rey's Degas and the Nude at the Boston Museum of Fine Arts (to Feb. 5)—gave me a welcome rush. They epitomized for me the spontaneous combustion that occurs when great material is ignited by a brilliant curatorial spark.
At "de Kooning," once I got past the exploratory early works, I gazed around each new segment in this chronological agglomeration thinking, "This is my favorite period"…"No, THIS is my favorite period…"
I came upon each painting that had been loaned by a New York museum as a dear, intimately known old friend, making me realize just how much time I had spent spellbound by Willem de Kooning's works in previous encounters.
Careening through the fast-moving periods of de Kooning's fluidly morphing oeuvre, the show ricochets from one climax…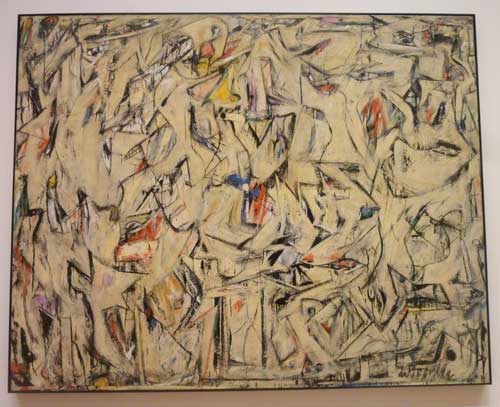 "Excavation," 1950, Art Institute of Chicago

to another…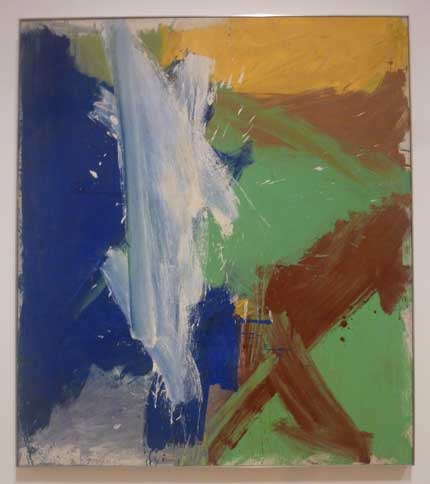 "Merritt Parkway," 1959, Detroit Institute of Arts

…to another: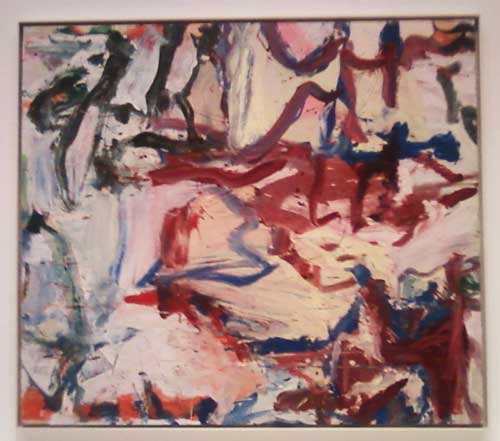 "…Whose Name Was Writ in Water," 1975, Guggenheim Museum

But like most great exhibitions, "de Kooning" boasts a drop-dead "power wall"—a lineup of masterworks that pack a transcendent visual and visceral wallop. This array of five iconic de Kooning women, with MoMA's own Mama ("Woman I," 1950-52) anchoring the middle, is everyone's idea of a surefire showstopper: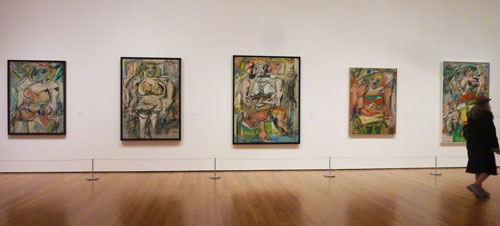 The Guggenheim picture in the photograph just above this buxom bevy is part of another "power wall"—lusciously painted gestural abstractions from the '70s—whose sum is more than its considerable parts. (The Guggenheim's "…Water" is second from the left.)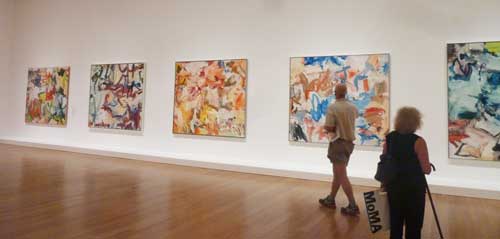 But then, there's the controversial late work, where de Kooning's gloriously dense, audaciously hued, aggressively messy paintings abruptly become spare and stripped down: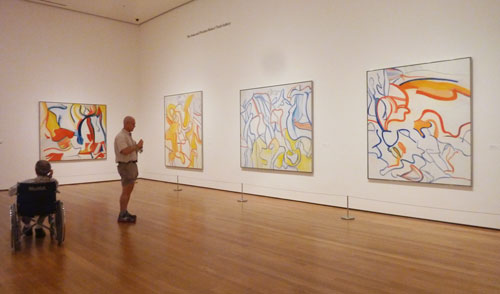 When asked at the show's Sept.13 press preview about what he describes in the catalogue as the "White Paintings," Elderfield declared that Gary Garrels' traveling survey of Willem de Kooning: The Late Paintings (which had opened in 1995 at the San Francisco Museum of Modern Art and traveled to MoMA in 1997, coordinated by Robert Storr) had decisively put to rest any doubts about the authorship of these wispy candy-colored confections, said to have been executed by the declining de Kooning. In the wall text, Elderfield goes so far as to hype these '80s works as "the grand finale of his artistic career."
Pesky skeptics have suggested that the "late de Kooning" may have owed more to obliging studio assistants than to the artist himself—a theory that MoMA seems to want to put to rest, yet again, through an online feature, posted Monday on the museum's website, by artist Tom Ferrara, de Kooning's assistant in East Hampton from 1979-87. But the four photos that Ferrara posts—even the one titled, "Willem de Kooning working"—never show him actually applying paint to canvas.
Nevertheless, in their definitive, Pulitzer Prize-winning biography, de Kooning: An American Master (which features on its back cover a detail from the same Arnold Newman photograph that appears on the back cover of Elderfield's catalogue), Mark Stevens and Annalyn Swan note that a 1984 movie made by Conrad Fried (the younger brother of de Kooning's wife, Elaine) showed the artist "drawing on the fresh canvas" and applying "one of his whiplash lines to the canvas."
The authors, who noted that Elaine had "an obvious incentive to establish a strong market" for the late work, assert that "what seemed to have happened with de Kooning…was that his ability to transcend short-term memory loss by drawing upon something deeper and more instinctual carried him until the mid-eighties. It helped that, in his final paintings, he moved toward drawing, his most instinctive gift."
Maybe so. But even Stevens and Swan note that when Fried returned in 1986 to shoot another film of the artist at work, de Kooning's "concentration was obviously slipping" and "as the year 1986 progressed, …that dance was over: the brushstroke had lost its partners. His canvases no longer seemed to breath in the same way. He was filling the space between lines, rather than animating the entire surface."
When I viewed the late-paintings show at MoMA in 1997, I had been totally convinced and deeply moved by what seemed to me as the ethereal other-worldliness of de Kooning's final paintings. But seeing them again, in the context of Elderfield's exhaustive retrospective, un-convinced me.
One thing you notice when going through MoMA's majesterial installation (which I did three times) is how one period leads to the next. You can see the less successful transitional works that mark a leave-taking of one played-out period and a tentative approach towards something excitingly new: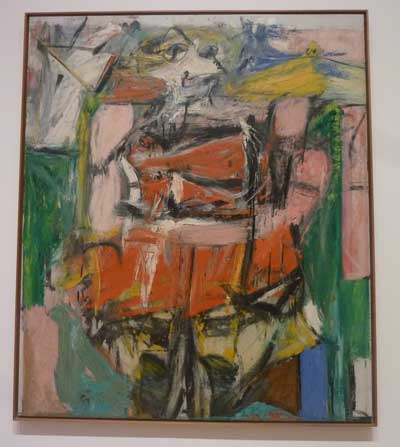 "Woman VI," 1953, Carnegie Museum of Art (close to, but not part of, the "power wall")
Elderfield tried to make the case for a similar progression leading up to the late oeuvre, with a few supposedly transitional works preceding the final gallery. But their connection to the new phase seemed slight and strained. The curator also echoed the biographers' argument (based on the writings of the keenly perceptive neurologist, Oliver Sacks) that people with dementia sometimes still perform surprisingly well in their areas of greatest proficiency.
From my own personal knowledge of people with dementia (including an accomplished pianist who continued to play complex jazz arrangements, but without his former interpretive and improvisational flair), I found it hard to believe that a notoriously, gloriously messy artist suddenly shifted gears to paint crisply defined shapes, modeled with delicate shading and tapered to fine points. I also doubted that someone in his condition would possess the fine-motor skills for such finesse.
I especially admired one work in the final gallery, until I closely examined the improbable delicacy of the wispy lines, the elegant tapering, and the subtle shading of the orange and yellow volumes. Could the diminished de Kooning really have done this? It became harder and harder to suspend disbelief: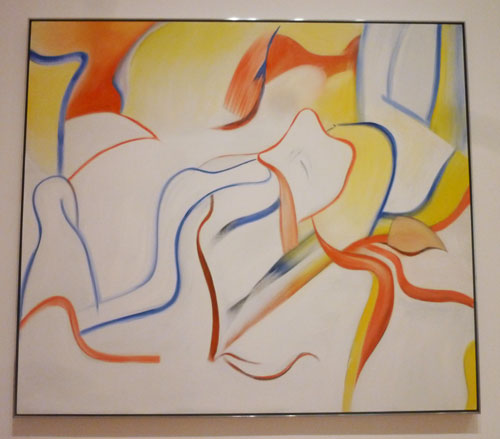 "Untitled XIX," 1983, Doris and Donald Fisher Collection
The show's final, very late de Kooning seemed chosen as much for the validation imparted by its renowned Pop artist-owner as for its possibly tenuous connection to the lionized Abstract Expressionist: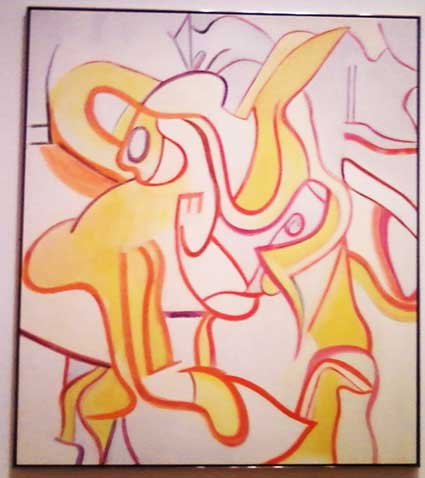 "The Cat's Meow," 1987, Jasper Johns Collection
None of my misgivings at the exit, however, detracted from the overall sense of joy and gratitude conferred by experiencing this brilliantly orchestrated, incisively explicated (soon to close) retrospective—one of the great highlights of a lifetime spent savoring superlative museum shows.
[I hope to discuss the BMFA's "Degas" in a future post.]

Photographs by Lee Rosenbaum