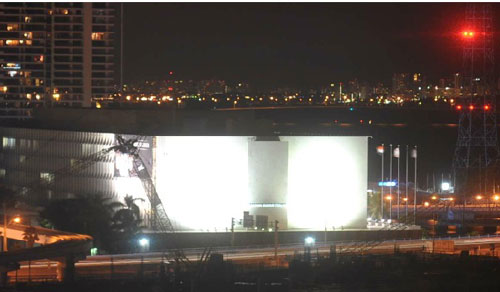 Construction webcam shot of the newly named Jorge M. Pérez Art Museum of Miami-Dade County
I've been pondering the controversy surrounding the Miami Art Museum's infelicitous renaming as the [take long breath] Jorge M. Pérez Art Museum of Miami-Dade County. The balancing act between private fundraising and public purpose is a difficult one, fraught with sensitive issues. But upon reflection, I come down on the side of those who think that the name change, although endorsed by the museum's director, Thom Collins (who succeeded Terence Riley), is a bad idea.
My reasons differ somewhat, however, from those advanced by my art-critic colleagues.
Aside from swapping the snappy "MAM" acronym for a name almost as cumbersome as the Metropolitan Museum's new Galleries for the Art of the Arab Lands, Turkey, Iran, Central Asia, and Later South Asia, this recognition, in perpetuity, of Pérez's donation of $20 million in cash and more than $15 million in art has the downside of ruffling some supporters' feathers by stamping a single collector/benefactor's imprimatur on the institution. (The new name also recognizes the contribution of Miami-Dade County, which, with voter approval, contributed a $100-million
bond towards the project.)
The anointment of one philanthropist has jeopardized fundraising from piqued potential donors whose goodwill is necessary for the successful completion of the museum's $220-million capital campaign for its new Herzog & de Meuron-designed building, to be completed in 2013. As of the Dec. 1 announcement of the naming gift by the chairman and CEO of the Related Group (developer of multi-family residences), some $53 million still remained to be raised.
In general, I'm not bothered by the use of naming opportunities as a fundraising tool. As I wrote four years ago, when critics were faulting the New Museum for selling naming rights to even the elevators of its new SANAA-designed Bowery facility: "In the nine circles of hell that are nonprofit fundraising, surely the mildest sin is allowing benefactors to attach their names to parts of buildings."
While appropriate due diligence should be undertaken to decrease the likelihood of a dreaded reputational disaster—donors in handcuffs—I think that a litmus test for naming opportunities that was recently proposed by Real Clear Arts blogger Judith Dobrzynski is inappropriate, with the potential for furthering controversy, rather than forestalling it.
Dobrzynski's suggested guidelines for institutional naming rights include an assessment of whether a lead donor is "liked in the community"—an especially puzzling opinion coming from a journalist gainfully employed as a consultant (along with former Metropolitan Museum director Philippe de Montebello) for the Leon Levy Foundation, a major contributor to museums.
The names of Levy and his widow—Levy Foundation trustee Shelby White—are anathema to certain members of the archaeological community, who decry the couple's former antiquities-collecting practices (although those were common at the time they occurred). But that didn't stop the Met from naming its monumental classical-antiquities hall, inaugurated in April 2007, as the "Leon Levy and Shelby White Court." The awarding of such recognition is not (and never has been) a popularity contest.
Dobrzynski objected to naming Miami's museum for Pérez in perpetuity, as is planned, observing that "50 years should be the limit in most situations, especially one like this where Pérez has not given that much." (Actually, $20 million in cash is not chump change, even by New York art-museum standards.) My guess is that reselling the Miami museum's name every 50 years would make its identity crisis even more acute than it already is. (The Met wouldn't tell me whether the Levy/White designation for its antiquities court is permanent or temporary.)
Also puzzling was Dobrzynski's failure to disclose her close relationship to one of the Met's most prominent antiquities benefactors in her post about that museum's recent acquisition of a Roman Imperial marble head of Zeus Ammon, hailed by the Levy Foundation's consultant as "a nice addition to the collection," with an "uncontroversial provenance."
But back to Miami: As many observers have noted, it is common practice to name cultural facilities for lead donors. But almost all the cited precedents are performing arts facilities. There are, of course, numerous art museums named for individuals—Frick, Barnes, Menil, Getty, to name four—but they were almost always founded by those individuals, whose personal holdings typically formed a large share, if not the entirety, of the inaugural collection. That's a non-controversial form of naming, for good reason.
Why would a Rockefeller Museum of Modern Art or a Bloomberg Metropolitan Museum of Art cause us, unanimously, to cringe, whereas Carnegie Hall doesn't sound off-key? I think part of the difference between art museums and theaters is that the benefactors who are most likely to "name" an art museum could (and most likely would) be not only art lovers but also art owners, with not only an emotional but also an economic interest in the contents and activities of the institution. They would also likely have other conflict-of-interest issues, due to their close relationships with certain other players in the art market—dealers, artists, other collectors.
Perhaps more importantly, because art museums are repositories for the public's patrimony (whereas theaters are venues for fleeting performances of composers', choreographers' and playwrights' creations), they have the aura of important, stable civic institutions, central to a communty's continuity and collective self-image, which shouldn't be usurped by any one citizen.
For now, even the Miami museum seems loath to relinquish its simpler, familiar name. At this writing, it still calls itself the Miami Art Museum on its own website. If Pérez knows what's best for his institution and wants to be hailed as a truly generous patron, he'll let the old name stay on the new entrance, and find a major chunk of the interior on which to permanently inscribe his moniker.
For other musings on the Miami Tsunami, see Linda Yablonsky on ArtNet, Lance Esplund on Bloomberg and Michael Putney in the Miami Herald.
Meanwhile, if any readers want to respond to my Last-Gasp Fund Drive by acquiring CultureGrrl's naming rights, I can be bought real cheap for the next 50 years—a mere $50,000. (Just kidding.)