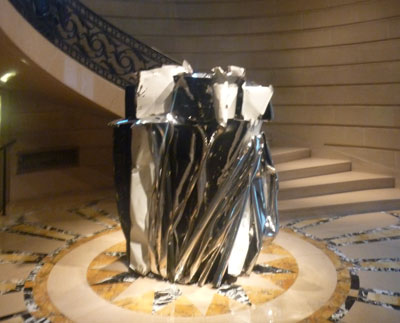 Recently installed in the rotunda of the reopened National Academy, New York: John Chamberlain, "Tasteylingus," 2010, courtesy of the late artist and Gagosian Gallery
While we're on the subject of recently deceased famous artists, we also take note of the passing last Wednesday of sculptor John Chamberlain, 84. His demise occasioned an unseemly classified-obit war in the NY Times between the two prominent dealers who represented the mangled-metal artist.
First, the backstory: Earlier this year, the voracious Gagosian Gallery lured Chamberlain away from his long-time dealer, Pace Gallery, in what the NY Post described as a "gallery battle." (The circumstances of the artist's shift in gallery allegiance were recounted in Kelly Crow's recent profile of Larry Gagosian for the Wall Street Journal.)
In two dueling, continguous (on Dec. 25) paid obits, Gagosian and Pace vied to attach themselves to the artist's memory. In the tribute signed personally by Gagosian (not by his gallery), he self-importantly quoted himself:
Larry Gagosian said: "John Chamberlain made an indelible mark on the history of art in the twentieth century. He was a spectacular, roaring figure who embodied the fierceness of mid-century American art and who was unparalleled in his adaptation of unlikely materials for his sculptures. His influence will be long reaching, and his death is a great loss."
Pace Gallery and its principals (led by Milly and Arne Glimcher) in their tribute pointedly emphasized that "we were privileged to represent him for over 20 years and were honored to have worked with him when the gallery was first established in Boston
over 50 years ago."
Could a battle to represent the artist's estate be in the offing?