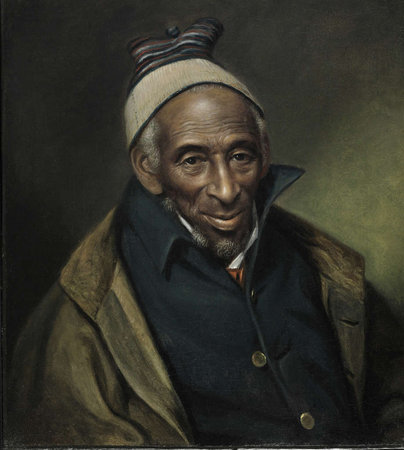 Charles Willson Peale, "Yarrow Mamout," 1819
I started having traumatic flashbacks to the "Gross Clinic" morass, after reading Stephan Salisbury's two excellent in-depth articles in the Phladelphia Inquirer about the Philadelphia Museum of Art's purchase of the above portrait, sold by the Philadelphia History Museum at Atwater Kent. The proceeds, according to Salisbury, are being used "to pay off most of a $1.4-million bank loan," in connection with the museum's $5.9-million renovation project. Closed since January 2009, the Atwater Kent is scheduled to reopen this June.
The Peale portrait, offered privately through Christie's, is "one of the very earliest known works to depict a freed slave in the
United States and the earliest known painting of a Muslim in America," according to the Philadelphia Museum's celebratory announcement of its acquisition, now on view.
When I read that Philadelphia Museum would bankroll its purchase by selling seven paintings and two 18th-century side chairs from its collection, I was poised to mount my high horse for another charge against dubious deaccessioning. After all, the paintings being monetized are by big names—Mary Cassatt, George Inness (two works), William Merritt Chase, Severin Roesen and Charles Willson Peale (two works).
But when the Philadelphia Museum (with admirable, very prompt transparency) sent me images and the complete (very scant) exhibition histories for these castoffs, they appeared to be very minor works by major artists—no great loss to the public domain.
Here, for example, is the Cassatt—"Head of a Girl in a Hat with a Black Rosette"—which had no special-exhibition history whatsoever and no history of display in the museum's permanent-collection galleries: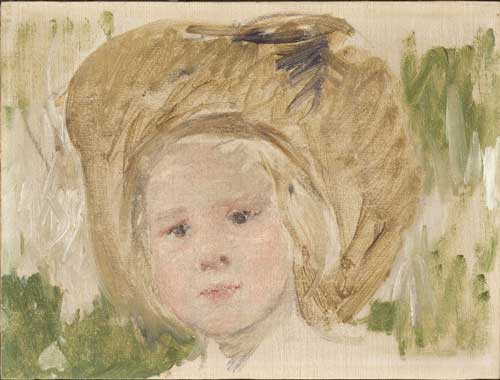 But while the Philadelphia Museum appears to have done the right thing, the Atwater Kent has disregarded a widely accepted standard of museum stewardship—that the collection should not be monetized to fund capital projects. The history museum has argued that its use of the proceeds is justified because the renovation is related to care of its collection. Categorizing a far-ranging capital project as "care of the collection" is too big a stretch.
UPDATE—Here's what the Professional Standards and Ethics of the American Association for State and Local History say on this subject: "Collections shall not be deaccessioned or disposed
of in order to provide financial support for institutional operations, facilities maintenance or any reason other
than preservation or acquisition of collections, as defined by institutional policy."
The sale of the Peale is be only the tip of the Atwater Kent's Titanic-sized deaccession iceberg. According to Salisbury's report:
Thousands of
artifacts have now gone to market to raise money, free storage space,
and focus the collection on items deemed of relevance to Philadelphia.
Since 2003, the museum has sold between 5,000 and 6,000 items, according
to officials, more than half since 2007.

Truly big-ticket art
sales began in December 2009 with the sale of a Raphaelle Peale still
life for $700,000 [actually $842,500, with buyer's premium, against a presale estimate of $300,000-$500,000]. Though the price of "Yarrow Mamout" has not been disclosed, knowledgeable speculation puts it in the $1.5 million-plus range.
In comments quoted by Robin Pogrebin for a NY Times article last year detailing previous Atwater Kent disposals, Gregory Kleiber, the museum's treasurer, offered this justification for the sell-offs:
We're a history museum, not an art museum.
That argument, reminiscent of the justification for the disposal of "The Gross Clinic," makes some sense for a medical school like Thomas Jefferson University, which sold the iconic Eakins to fund its core activities. But if collecting and displaying paintings aren't part of the Atwater Kent's core mission, why does its website feature 15 paintings (here and here), including Peale portraits depicting George Washington and Benjamin Franklin?
The Atwater Kent's announcement of its most recent sale asserts that the Peale was "not directly aligned with the History Museum's mission of showcasing Philadelphia's material culture." But like Eakins, Charles Willson Peale was a Philadelphia artist. What's more, the sold painting has strong associations with that city: As noted in the Philadelphia Museum's above-linked announcement of its acquisition, "upon its completion, 'Yarrow Mamout' was exhibited at Peale's Museum in Independence Hall, Philadelphia," which is said to have been the first museum in the U.S.
The jettisoned Raphaelle Peale, according to its Christie's auction catalogue description, had an extensive exhibition history at various institutions including its previous owner, the Historical Society of Pennsylvania (which in 2009 finalized a transfer of its art and artifacts to the Atwater Kent, but shares the proceeds from sales). The Christie's catalogue description misleadingly states said that proceeds from the Raphaelle Peale were designated for a "Museum Collection Fund," making this disposal appear to follow professional guidelines that deaccession proceeds be used for purposes that are directly collection-related.
Charles Croce, who recently became executive director of the Atwater Kent, assured the Inquirer that "Yarrow Mamout" would be his museum's last renovation-related disposal.