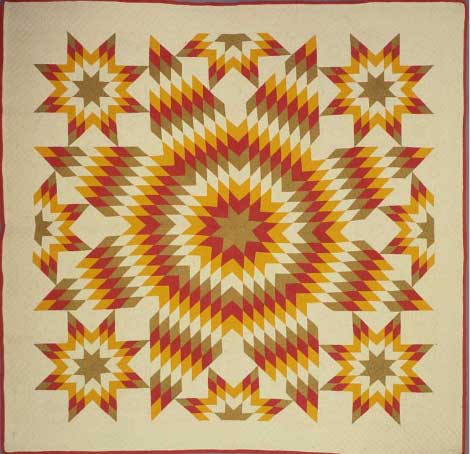 Currently on display at American Folk Art Museum: "Star of Bethlehem with Satellite Stars Quilt," artist unidentified, possibly Pennsylvania,1930-1950
In my post earlier today on the rescue of the American Folk Art Museum (with an update on the Ford Foundation's support here), I stated that its administration's "first order of business" should be updating the museum's website "with an announcement of the good news on its homepage and some information about its plans, going forward."
Now that's happened.
Here's an excerpt from acting director Linda Dunne's Dear Members and Friends letter:
In addition to developing a financial plan, the Trustees are also
creating a strategy that will increase the visibility of the Museum's
renowned collections and extend the American Folk Art Museum brand. The
Museum will seek to establish a revitalized and expanded program of
loans to collaborating New York City institutions, as well as packaging
traveling exhibitions around the U.S., as ways of sharing folk art with
wider audiences.

The Brooklyn Museum, the New-York Historical Society,
and the Museum of Arts and Design have expressed interest in working
with the American Folk Art Museum to identify potential exhibitions
where the museums respective collections inform and excite one another.

The Metropolitan Museum of Art will display approximately 15 major works
of art from the collection in honor of the opening [my link, not theirs] of the American Wing
and The Henry R. Luce Center for the Study of American Art.
I love the idea of New York museums in collaboration, not competition.
AFAM has elected a new president, Edward Blanchard Jr., who "is currently an investor in distressed hotel properties," according to Dunne's letter. We can only hope he also invests in distressed museums.
The next thing AFAM should do (aside from answering my phone calls) is post some forward-looking press releases on its moribund website (which still lists a long-departed staff member as public relations director). A particularly good sign would be an announcement of some future projects on the exhibitions page. This fall's show was to have been curator Stacy Hollander's "Life: Real and Imagined—A Decade of Collecting."
Is that show still on, Stacy? With Superstars: Quilts from the American Folk Art Museum scheduled to run through December, we may have to wait a while for new presentations at AFAM's small Lincoln Square facility.