I wouldn't have expected this of the New Yorker.
There's been a lot of talk about how to properly commemorate the tenth anniversary of 9/11, without improperly exploiting it commercially. To my mind, this promotion from the New Yorker, usually an arbiter of good taste, crossed the line into skin-crawl territory: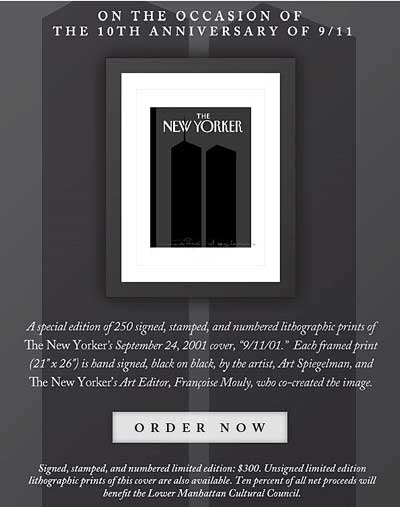 At least they're designating a token 10% of net proceeds from this "special edition" of prints, bearing the image of the New Yorker's Sept. 24, 2001 cover, to benefit the Lower Manhattan Cultural Council. In an inadeqate exercise of self-restraint, they waited until the day after 9/11 to drop this crass "limited time offer" into my inbox.
Perhaps they should now rethink what to do with the remainder of the proceeds from the 250 signed lithographs priced at $300 each (not to mention the unsigned prints at $199 framed, $99 unframed—also in "limited editions," but with the size of the editions not specified). Perhaps the artist, Art Spiegelman, should attempt to insist that this belated return to propriety happens.