My selective survey of NYC museums suggests that most are returning today, Monday, to regular visiting hours, now that Hurricane Irene has left town. One exception, though, is the Museum of Jewish Heritage, located at the tip of Lower Manhattan—an area that had been subject to the city's evacuation order. [UPDATE: The museum's spokesperson now tells me that it did open today, Monday, just 15 minutes later than its usual 10 a.m. opening. Minor leaks were found, first-floor reinstallation is in progress.]
As you can see, that museum is right on the water: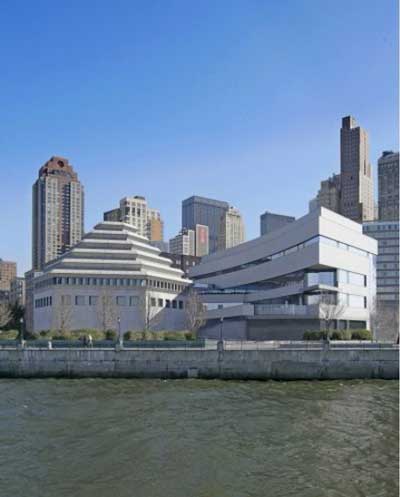 The Museum of Jewish Heritage's spokesperson, Betsy Aldredge, told me this last night:
The staff is returning to the museum tomorrow [that's today, Monday] to prepare it for reopening as soon as possible.
We will keep you posted regarding when we will re-open. We don't know
yet. After the initial assessment, it looks like we are facing some
minor leaks. Our staff worked very hard on Friday to safeguard the
collection and the building.
On its blog Friday, the museum reported:
The staff has spent the past four-and-a-half hours de-installing artifacts from the first floor. As Gabe took a torah from its case—the torah that was supposed to be in the Nazi Museum of the Extinct Jewish Race. He found the act of safeguarding the torah to have incredible poignancy.
Here are what spokespersons from less beset NYC museums told me Sunday evening about their calm after the storm. [NOTE: This list is being augmented as reports come in.]:
—The Metropolitan Museum suffered no damage from Irene. Minor water incursions were easily contained. We will open as usual Tuesday.
[The Met is normally closed on Mondays.]

—Both the Museum of Modern Art and MoMA PS1 will be open regular hours Monday (and the rest
of the week). Neither building sustained any damage due to the storm. We took the preemptive move of removing some works from the sculpture garden on Friday. Same with the Young Architects Program courtyard installation at MoMA PS1.

—Everything good at the Brooklyn Museum. Usual hours this week, which means closed Monday and Tuesday.

—The Frick Collection sustained no damage. We will be open as usual this week.

—The New Museum is fine and will open as usual on Wednesday.

—More business-as-usual information regardng NYC museums is posted on WNYC's website.

—The Parrish Art Museum [on harder hit Long Island] weathered Irene just fine. No damage to art works or the
building. We will reopen tomorrow, Tuesday, Aug. 30.

—The Nassau County Museum of Art [also on Long Island] has power, but the roadways on the property are presently
impassable because of downed trees and branches. We're hoping to have that
cleared in time to open tomorrow. But no guarantee.

—The Guggenheim is ready to open Monday morning and to welcome cabin-fever New Yorkers and visitors. Depending on when security staff arrives, we may need to stagger the opening of side galleries.
My recommendation is to go see the Guggenheim's Lee Ufan: Marking Infinity. The calming pleasure afforded by this Korean artist's retrospective is a perfect tonic for the hurricane jitters. ("Irene," of course, means "peace," as in the Greek goddess of peace.) Just don't spend too much time reading the labels, which mostly detract from, rather than enhance, the enchantment of this minimalist full-ramp installation, juxtaposing locally found boulders (which take on the character of compelling personages) with obdurate sheets of mottled metal…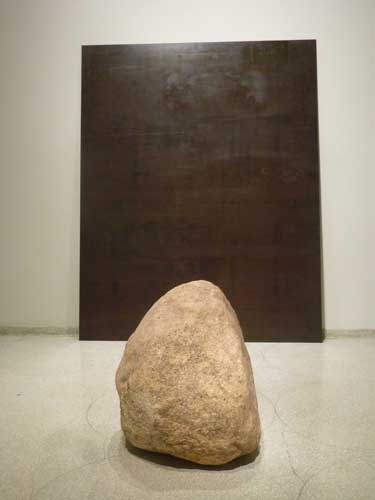 "Relatum—silence b," 2008, steel and stone, courtesy Pace Gallery and Blum & Poe
…or ensconcing them on comfy cushions: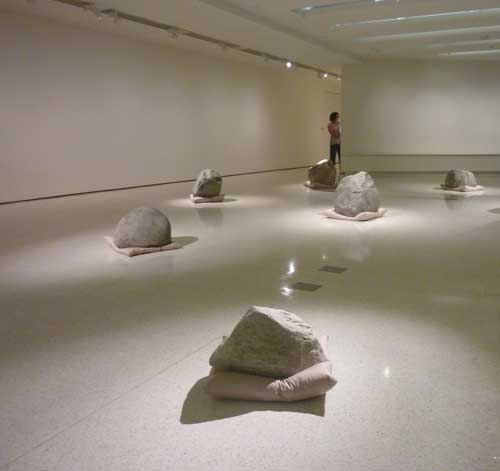 I also admired Lee's subtle scrim intervention, delicately veiling part of the Guggenheim's ramp…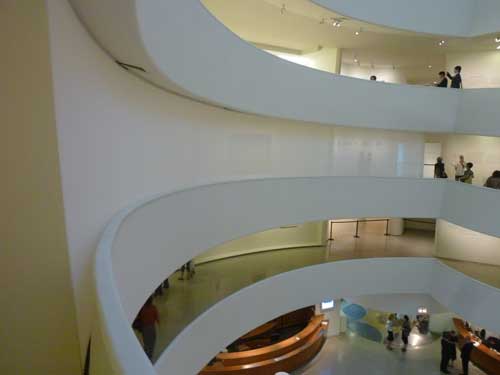 …nicely complementing his delicate painterly gestures: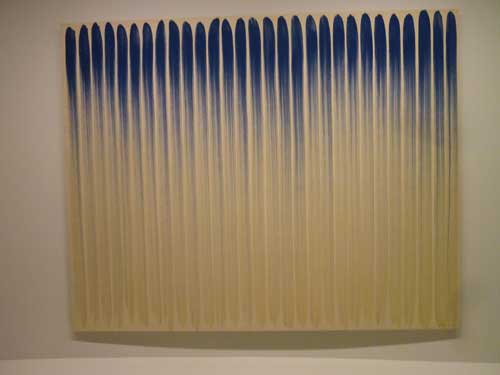 "From Line," 1974, Museum of Modern Art
But after what happened (scroll down to the video) this weekend on my terrace, a piece showing the damaging effect of a boulder on glass now has special resonance for me: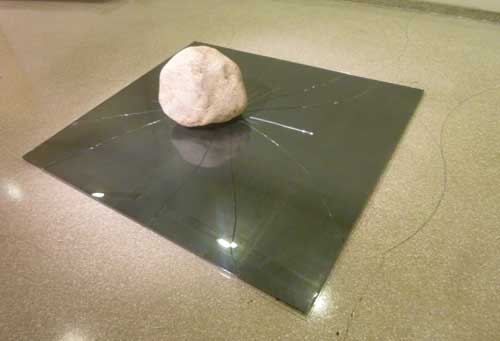 Lee Ufan, "Relatum," 1968/2011, steel, glass and stone, private collection
It looks like you'll have a number of post-hurricane options for your viewing enjoyment. And I'll update, above, with more re-opened (or not yet re-opened) institutions, if and when I receive more responses to my queries.
Now all you have to do is figure out how to get there!