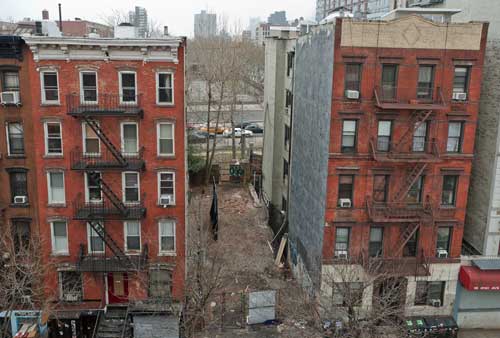 The rubble-strew vacant lot at Houston Street and Second Avenue, now transformed as the site of the BMW Guggenheim Lab
Photo: Kristopher McKay
© Solomon R. Guggenheim Foundation
With federal and state governments already in financial meltdown, and with today's Dow drop suggesting that we could be coming down with another economic-flu epidemic, where can future arts sponsorship be found?
The answer, for better or worse, may be those corporations that remain robust in spite of it all—particularly foreign-based businesses that may not be quite as restricted in their philanthropy by the bottom-line concerns of shareholders as are many American firms today.
With support from both public sources and hard-hit individuals imperiled, it can be tempting for art museums to look for love in the wrong places—accepting expedient exhibition support from collectors or dealers who have direct economic interests in single-collection or single-artist shows. But that trip comes with too much conflict-of-interest baggage. There's another way—comparatively disinterested corporate support—as exemplified by the Museum of Modern Art's recent exhibition sponsorships by Hyundai Card.
The BMW Group deserves a hat-tip not only for sponsoring the BMW Guggenheim Lab, which opened free to the public last week on Manhattan's Lower East Side (to Oct. 16), but also for gamely allowing the Guggenheim's organizers—David van der Leer, assistant curator, architecture and urban studies, and Maria Nicanor, assistant curator, architecture—free reign in determining the project's content and theme, "Confronting Comfort," which, to a large degree, runs counter to the sponsor's core mission of selling luxury cars.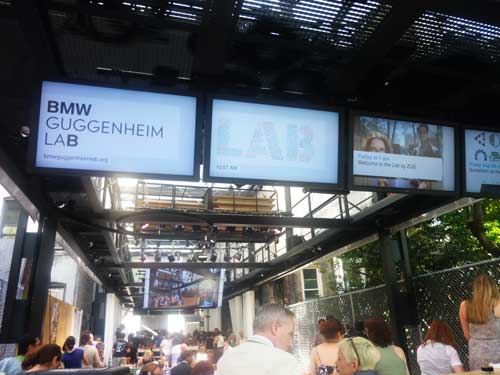 Inside the BMW Guggenheim Lab
At the press preview last week, I learned that the theme chosen by the Guggenheim for the first three venues of the lab (next stops: Berlin and Mumbai) involves sacrificing certain personal luxuries for the greater good. Among other things, that means getting cars (including BMWs) off the streets, in favor of mass transit.
As described by the project's website:
The Lab will explore how urban environments can be made more responsive
to people's needs, how people can feel more at ease in urban
environments, and how to find a balance between notions of modern
comfort and the urgent need for environmental and social responsibility.
The centerpiece of the New York installation of the lab, which will feature a wide range of speakers and film screenings, is a a group role-playing game, Urbanology, developed by the New York-based Local Projects with physical design created by the Rotterdam-based ZUS. (If all goes according to plan, you will be able to play that game online, beginning on Wednesday.)
Here's the Urbanology playing board, with its wooden playing tokens in the vitrines: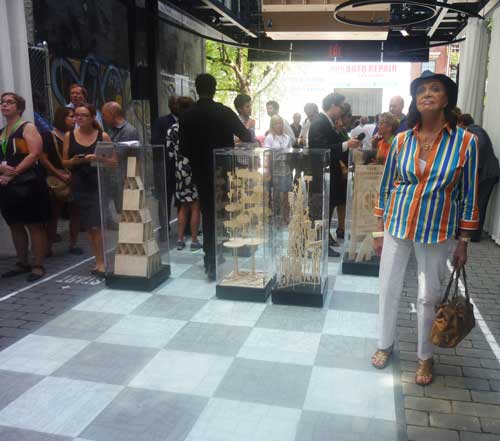 And here are some of the questions asked of participants in this role-playing exercise:
Will you mandate that car-rental companies in the city offer hybrid and electrical cars only?

Will you impose a $5 toll on cars entering downtown?

Will you subsidize consumer purchases of electric cars and install charging points around the city?
Since "Confronting Comfort" is a CultureGrrl sub-speciality, I confronted Thomas Girst, BMW's head of cultural engagement, about the disconnect between the lab's car-wary theme and the sponsor's products. As you'll see in the CultureGrrl Video below, Girst is a master of the martial art of deflecting uncomfortable confrontation. (He didn't even mention, but could have, that BMW sells hybrid cars and is about to roll out electric models.)
For the video, I first spoke with the designers of the Urbanology game, then grilled Girst, and finished by chatting with the amiable Richard Armstrong, director of the Guggenheim, who told me that, to his mind, the "principal achievement" of the lab "would be to have a big impact on the discourse of what the city can be and, maybe more importantly, what it should be." The aspiration to be a beneficial urban game-changer may ultimately prove a stretch for a mere art museum to pull off. But there's no harm trying:
At the conclusion of the lab's two-year, three-city cycle, the Guggenheim
Museum will mount an exhibition in New York presenting the findings of this project. (There will subsequently be two more three-city BMW Guggenheim Labs in other locations, with not-yet-determined themes.)
The minimalist design for this traveling intellectual circus was devised by the Tokyo-based Atelier BowWow, which itself has eschewed comfort with an open-to-the-street structure that provides scant shelter from the elements and no insulation at all from the considerable traffic noise on hectic Houston Street—a serious impediment to thinking at this well-intentioned think-tank.
Particularly hostile to comfort is the barebones seating for the New York programs. The chair below was occupied on Friday night by Ricardo Scofidio of the Diller Scofidio + Renfro architectural team, during the hour for which he sat (with no apparent discomfort) in the audience (after which he joined his wife and professional partner, Liz Diller, at the podium for a Q&A):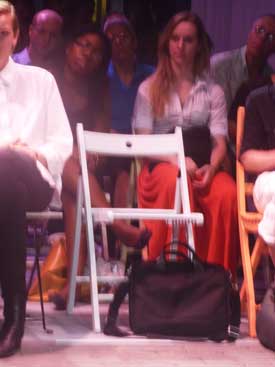 Diller, a member of the BMW Guggenheim Lab's advisory committee, spoke about her firm's practice—both its early conceptual projects and its more recent high-profile forays into major construction, for which she says her firm "has a vested interest in discomfort." Her firm's popular transformation of the High Line in New York, Liz enigmatically informed us, is like a Seinfeld show—"about nothingness.'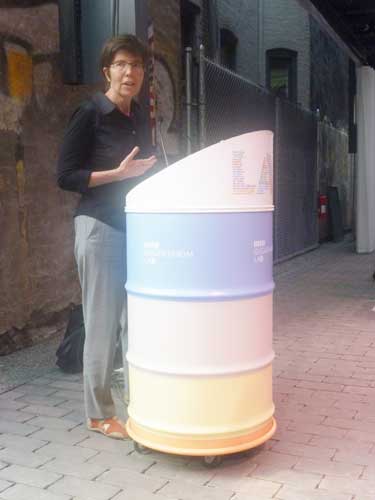 Architect Elizabeth Diller at the industrial drum-turned-podium in the BMW Guggenheim Lab
Speaking of enlightened sponsorship, my warm thanks go out to CultureGrrl Donor 173 from Mattapoisett, MA. Along with the animated BlogAd that debuted in my righthand column today, this gives me a good start towards my $340 goal for the CultureGrrl Canadian Challenge. I'll be leaving the comfort of my home-office for my work-ation this Sunday, art-lings, so I'd appreciate your speedy support—donations or ads—towards two of my five hotel nights in nonconfrontational comfort.