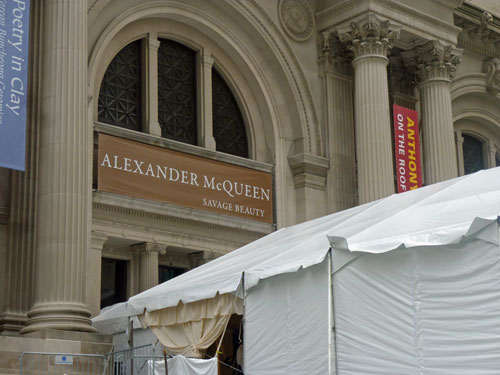 Tent for the Costume Institute's gala tonight at the Metropolitan Museum of Art
While I was no fan of the catalogue, I was wowed by the coup de théâtre that is Alexander McQueen: Savage Beauty at the Metropolitan Museum (May 4-July 31). The installation was more inventive and inspired than almost anything I've seen pulled off at this venerable institution. (You'll get some sense of that by viewing the CultureGrrl Video, below.)
Curator Andrew Bolton's wall text was illuminating; the object labels weren't. I wished for more in-depth information about the individual pieces, provided neither in the show nor in the catalogue.
Both the show and catalogue soft-pedal the perverse, transgressive sensibility that suffuses the galleries. The word "Romantic" keeps resonating on the walls and in the catalogue, but even the 19th-century Romantic concept of the dread-provoking "sublime" doesn't capture the dark, macabre quality of what we see and experience here. It's more about fetishism and sadomasochism than about the dreamy haze of reverie (except for a gauzy hologram, which you'll see in my video, of model Kate Moss dancing to poignantly elegiac music, at the end of which her image dissolves into abstraction and then nothingness). Edgar Allan Poe is, at one point, fittingly invoked: The show's "Savage Beauty" owes more to Poe than to Wordsworth.


Jacket of black leather and black fox, vest of black leather and silver metal, skirt of black leather, 2009-10, courtesy of Alexander McQueen

McQueen conscientiously learned the rules (tailoring from Savile Row, softness from Givenchy), only to break them, in the manner of many cutting-edge artists. Speaking of "cutting," I still wish that more light had been shed on the designer's meticulous methods and craft.
As Met director Thomas Campbell suggested in his remarks (both at the press preview and in his catalogue introduction), McQueen's creations (at least those in this show) were more art than fashion. Unlike "American Woman," last year's Met Costume Institute show, much of what you'll see in the video below is unwearable but unforgettable. It's not surprising that most of the ensembles from the show are on loan from the fashion house, not private owners.
I would, however, have loved to have seen one of the madly-hatted attendees at the Royal Wedding dare to wear this bird's-nest creation: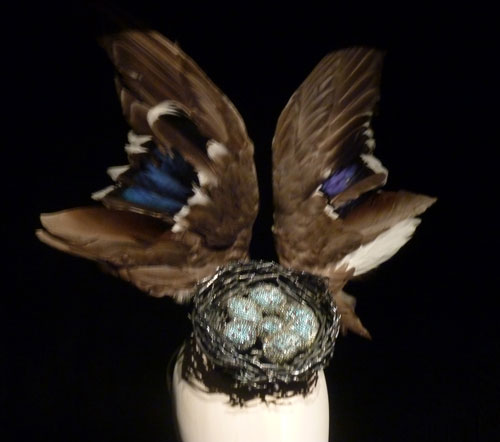 Shaun Leane and Philip Treacy for Alexander McQueen, Headpiece: silver, Swarovski gemstones and gull feathers, courtesy of Swarovski
And McQueen did make a lasting contribution to real-life wardrobes with his "bumster" pants and skirts:

Left: "Bumster" trouser: black silk and cotton grosgrain, 1995-96, courtesy of Mira Chai Hyde
Right: "Bumster" skirt: black silk taffeta, 1995-96, courtesy of Alexander McQueen
Particularly enchanting was the gallery where mannequins pirouetted in mirrored compartments, accompanied by tinkling music that made them eerily reminiscent of wind-up dolls from a child's jewelry box. These elaborately clad visions wear hair helmets reminiscent of the signature coif of Vogue's British-born editor-in-chief, Anna Wintour, long-time rainmaker for the Costume Institute's galas: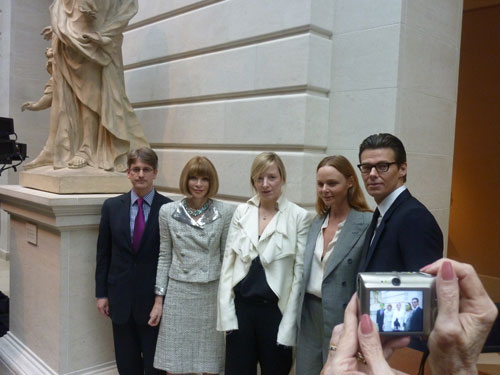 Left to right at the "McQueen" press preview: Met director Tom Campbell; fashion editor Anna Wintour; Alexander McQueen's creative director Sarah Burton; designer and McQueen friend Stella McCartney; curator Andrew Bolton
Sarah Burton, who took charge of McQueen's fashion empire after the designer's February 2010 suicide (and who designed Kate Middleton's gown for the Royal Wedding), managed to depart London for New York in time for the press preview: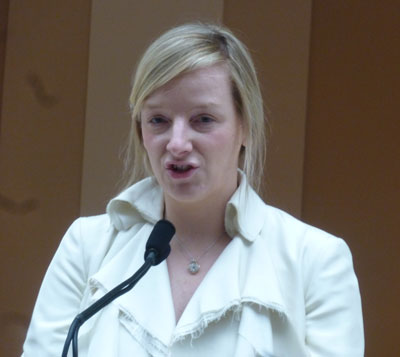 Now join me in touring the most theatrical moments of this haunting display: