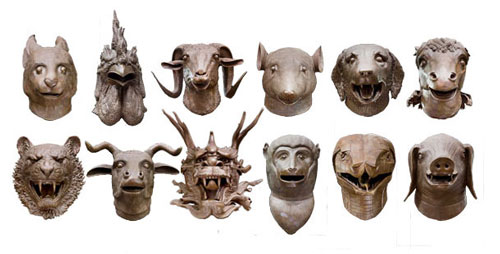 Bronze animal heads created by Ai Weiwei for his outdoor
exhibition, "Circle of Animals/Zodiac Heads," Grand Army
Plaza, New York
Today was to have been the official launch of Ai Weiwei's Circle of Animals installation at the Pulitzer Fountain in New York. But the end of Osama bin Laden has put an end to that, for today, because it was to have been a ceremonial New York City event with Mayor Bloomberg in attendance. (For good reason, he has other things to attend to today, in light of momentous current events.)
I have no word yet when the official opening will be rescheduled, and I have not yet been able to determine whether the sculptures are being informally unveiled today, without ceremony. You can follow the ZodiacHeads Twitter feed for late-breaking developments.
One things seems sadly certain: Ai will almost certainly not be there to celebrate his work with us.

UPDATE: The animal heads, already installed around the fountain, will remain under wraps until the official launch.