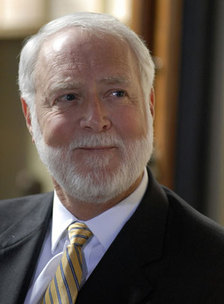 Smithsonian Secretary G. Wayne Clough
The most dramatic moment of last night's kickoff panels for the otherwise tame, predictable "Hide/Seek"-related conference, hosted by the Smithsonian Institution, came at the very end of the evening: In a confrontation reminiscent of the famous Martin Sullivan moment at December's "Hide/Seek" discussion at the New York Public Library, a hostile questioner asked if Smithsonian Secretary G. Wayne Clough, who had spoken briefly at the beginning of the evening, was still in the house.
Indeed he was (as those of us watching the webcast could plainly see). He rose from his seat in the front row and turned to face the audience member, Mike Blasenstein, who was co-founder of the Museum of Censored Art—a shed that had been parked outside the National Portrait Gallery during the run of "Hide/Seek," continuously showing David Wojnarovicz's "A Fire in My Belly" (the video that Clough had ordered removed from the NPG's show).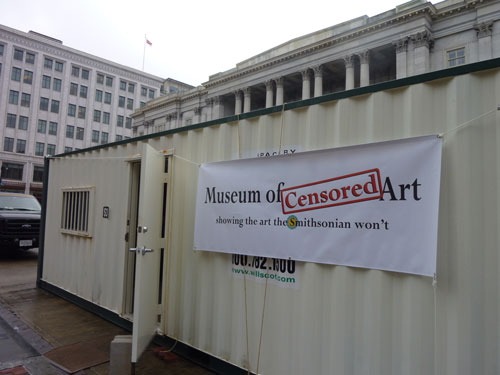 Mike said he knew (as had been previously reported) that Clough did not intend to answer any questions. Clough then gamely asserted: "I AM answering questions!" After Blasenstein berated the Secretary for only speaking publicly about "Hide/Seek" at one Los Angeles public meeting and in interviews with three "hand-picked journalists" (ahem), Clough testily replied: "You're wrong about that!" His views, he noted, had been published on the Smithsonian's website, "available to the world." (That's not quite the same thing, however, as engaging in open dialogue.)
Clough could use some lessons from Sullivan in addressing other disgruntled constituents with the same sympathy and respect he accords to powerful politicians and incensed religious spokespersons. "You're wrong!" is not the right way to make friends and influence critics.
Strangely, Richard Kurin, the Smithsonian's under secretary for history, art and culture, kicked off the evening by stating that in constituting the conference's panels, "the idea was to have a 50-50 balance between Smithsonian and non-Smithsonian folks." This idea, as I've previously observed (scroll down), was far from realized.
But now we know why the ratio was 20 Smithsonites to 9 outsiders. Panelist Thom Collins, director of Miami Art Museum, observed:
I'm the only [non-Smithsonian] museum director that Jon [Katz, guest curator of "Hide/Seek"] could get to agree to participate.
Where are all the courageous art museum leaders when we really need them? At least tomorrow we'll hear from Kaywin Feldman, director of the Minneapolis Institute of Arts and president of the Association of Art Museum Directors. (She previously addressed the Rutgers/Seton Hall "Hide/Seek" panel on which I recently served with Sullivan.)
It appears from Katz's comments that a previous proposal to send a traveling "Hide/Seek" exhibition to the Brooklyn Museum and the Tacoma Art Museum may not be realized: Katz told the DC crowd that he is now working on a show for Tacoma entitled, "Art, AIDS, America."
Katz asserted that by pulling the Wojnarovicz video, "the Smithsonian did exactly the wrong thing." Its actions, he said, "didn't extricate it; it implicated it, making the museum part of the politics. The act of censorship overshadowed the extraordinary breakthrough of 'HIde/Seek.'"
The NPG's David Ward, Katz's co-curator for the show, decried the directive in the Report of the Regents Advisory Panel for Smithsonian museums to consult with interested members of the public in the "pre-decisional phases" of exhibition planning.
Ward observed:
The "citizen curator" approach can easily lead to a watered-down populism, because you can't get a consensus.

It is, as I've already called it, a lose-lose scenario.
Now that Clough has opened himself to questions, I suspect he'll get a few pointed interrogatories at tomorrow's full-day "Hide/Seek" marathon (assuming that he attends, as he should). If I were in the audience, I'd ask whether and under what circumstances he might entertain future requests to alter shows that were already up. We know that Clough has vowed to consult with his directors and curators, rather than act unilaterally (as he did with Wojnarovicz). But the decision on whether to yield to pressure or tough it out is ultimately his.
It would be good to know his thoughts for how he will act if another firestorm erupts. It would be even better to know that he intends to dedicate himself to educating Congressional critics about the Smithsonian's purpose and programs, so that another political blow-up doesn't happen any time soon.
You can view tomorrow's live webcast of the conference, beginning at 9:30 a.m., here. The schedule of panelists is here.