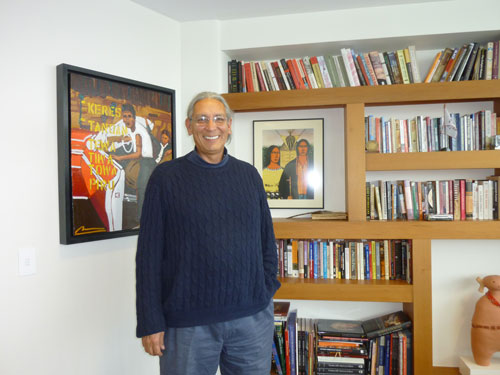 Kevin Gover, director of the National Museum of the American Indian, in his office overlooking the Capitol
At left: Mateo Romero (Cochiti Pueblo), "Tewa, Tiwa, Towa," circa 1995, National Museum of the American Indian
In middle: David Bradley, "Indian Self Rule," lithograph, 1985, from Gover's personal collection
At right: Partial view of a pottery/ceramic jar by Hubert Candelario (San Felipe Pueblo),1994, NMAI
To my surprise, the Wall Street Journal is posting articles earlier than previously.
Already online is my piece for tomorrow's "Leisure & Arts" page—Shows that Defy Stereotypes—about installations of Native American Art at the Denver Art Museum, National Museum of the American Indian (New York and Washington) and Brooklyn Museum. I describe how museums are increasingly privileging contemporary artists and also soliciting the views of contemporary Native Americans in interpreting their heritage.
I thought I'd have a little more time to prepare for you the CultureGrrl Irreverent Photo Essay, complementing my serious piece. (Patience, artlings!)
For now, I'll tell you this:
If you think that the Smithsonian's "Hide/Seek" show was sensitive and provocative, just wait until you read about NMAI director Kevin Gover's plans for a complete reinstallation of the NMAI's main facility in Washington, which may begin in 2014.
It remains to be seen how his plan (which I describe at the end of the piece) will be received by Big Chief Boehner and the Republican and Democratic tribes who powwow at the Capitol (which is framed by the window of Gover's office).
Unlike Smithsonian Secretary G. Wayne Clough, Gover, a lawyer who was not previously a museum professional (but who collects, in a modest way, American Indian art), knew exactly what works were arrayed behind him when he posed for the above photo. (He was a little hesitant about having his photograph taken on Casual Friday, but earned my gratitude by allowing it!)