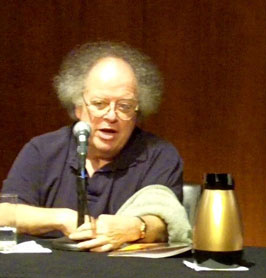 Metropolitan Opera music director James Levine: Should he throw in the towel?
In the wake of conductor James Levine's announcement that he would to resign the music directorship of the Boston Symphony Orchestra, Justin Davidson of New York magazine declared that the maestro should do the same at the Metropolitan Opera.
Davidson wrote:
The time has come to make him conductor laureate for life and hand the keys [as music director] to someone else.
Not so fast!
If the NY Times' reviews of Levine's recent performances in New York are any indication, his conducting, when he does make it to the podium, is still wondrously energetic and the results every bit as "sumptuous" (in Allan Kozinn's words) and "majestic, vibrant and insightful" (in Anthony Tommasini's words) as ever.
He undoubtedly needs more rest and rehabilitation, which he may now be able to get, thanks to the less punishing schedule that he will have by dropping his Boston commitment. Whether this will work out remains to be seen. But until we know, it's premature to take away his keys, especially given the galvanizing effect on musicians, singers and audiences that he has had at the Met for all the 40 years since his debut at the house. He deserves a chance to make this work.
At the press conference introducing the Met's 2011-2012 season on Feb. 16, two weeks before the Boston announcement, Peter Gelb, the Met's general manager, did his best to emphasize the maestro's vigor:
He conducted "Don Pasquale." Last night, he conducted a new production of "The Bartered Bride" at Juilliard….Before the season will have concluded, he will have also conducted performances of "Trovatore," one of which will be transmitted world via HD; a revival of "Wozzeck," and our new production of "Walküre," before taking the Met on a three-week tour of Japan. We have worked together on he plans for next season, and we are planning together far into the future. And hopefully that should save at least one question from the Q&A.

Now there is new cause for questions, given his subsequent performance cancellations and evidence that his recovery from his various ailments may not be as complete as he had hoped.
When one journalist asked him at the press conference why he had not stepped up for his bows after the performance at Juilliard of "The Bartered Bride," Levine replied:
I'm not coming up onstage all the time now because I'm finding the one thing which is still difficult for me is, after I do a performance and I've been sitting in the chair all night, the first couple of minutes of walking is hard on my back, and especially walking up the stairs quickly. So on nights when I work harder, …if I feel at the end that I'm better off to stay put, I wave to the public from the place where I am. I feel very good when I'm in whatever position I'm in, but the first minute or two of walking is a little different every day.

Even without the Boston burden, Levine's schedule—especially the three-week stint in Japan—sounds pretty grueling. He needs to pace himself, perhaps devoting more time to the music directorship and a bit less to conducting, all the while working to groom a suitable heir apparent and to attract more A-list guest conductors.
For now, Davidson's abrupt dismissal of Levine (not to mention his unwise wisecrack that Levine "looks as if he spent his waking hours manipulating a joystick rather than wielding a conductor's baton") is insensitive, inappropriate and, I hope, premature.
Here's a more suitable response to the maestro's superlative artistry.
That said, if he misses the "Die Walküre" performance that I've got tickets for, I may become less sympathetic!
As for Levine's replacement at Boston, I was interested to see Jeremy Eichler of the Boston Globe say this today:
Among the pack of young would-be contenders, there is considerable buzz
at the moment around [Andris] Nelsons, a Latvian conductor who, at 32, currently
leads the City of Birmingham Symphony Orchestra.
I was in the audience at the NY Philharmonic recently, for what Eichler called Anders' "lavishly praised debut" with the orchestra. I had never heard him before, and wondered where he had been all my life. Thanks to his absolute rapport with the exquisitely sensitive (and, in the last movement, manically playful) young soloist, Jonathan Biss, he delivered an absolutely revelatory performance of a work that I've heard a million times before, Beethoven's Third Piano Concerto. (The Shostakovich Fifth Symphony was also on the program.)
Can Nelsons do Boston AND Birmingham?