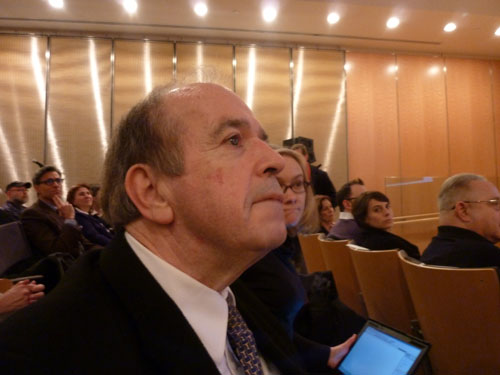 Martin Sullivan, director of National Portrait Gallery, sitting next to me at NY Public Library's Dec. 15 discussion on "Hide/Seek"
Martin Sullivan, the admirable director of the National Portrait Gallery, is going to get stuck sitting with me once again.
He's the headliner of an Apr. 9 panel discussion at Rutgers University, Newark, NJ, in which I will be one of his co-panelists—Hide/Seek: Museums, Ethics and the Press. (I guess I'm "the press.") Admission is free but space is limited. Hit the link at the bottom of the online announcement to register.
Our moderator is author Daniel Okrent, who formerly served as the ethical watchdog of the NY Times, during his stint as that newspaper's first Public Editor.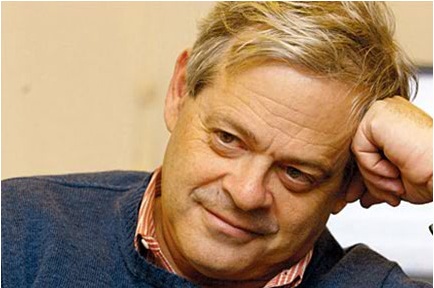 Daniel Okrent
Our panel kicks off a full-day "Hide/Seek" fest, organized by Seton Hall University's Institute of Museum Ethics, in partnership with Rutgers' Institute for Ethical Leadership. What I'm particularly interested in (aside from my own panel, of course) is an afternoon talk by the Smithsonian's associate general counsel, Rachelle Browne, on "Moral Rights, Free Expression and Money: Predictable Ingredients for an Ethical Controversy?"
I've been one of very few commentators who have highlighted the moral rights issue raised by curator Jonathan Katz's cutting, splicing and soundtracking of David Wojnarovicz's subsequently removed video, so I'm eager to hear what Browne may have to say about this.
Sullivan, to me, has been the relatively unsung hero of this saga, stuck between a rock and a hard place, but managing to navigate through, earning respect from all sides. As CultureGrrl readers may remember, the NPG's director haplessly chose a seat next to mine (without realizing that he had just made himself a captive interviewee) when we both attended the curators' talk at the NY Public Library about his museum's controversial, gay-themed Hide/Seek show (which closed on Feb.13)
Sullivan handled this event skillfully, not only in graciously fielding my pesky questions, but especially in taming the hostile crowd when a questioner directly confronted him. He has all the crisis-management savvy that Smithsonian Secretary G. Wayne Clough seems to lack.
Speaking of which, the NY Times will be publishing in Sunday's "Arts & Leisure" section (online now) a long piece by Sheryl Gay Stolberg and Kate Taylor on the "Hide/Seek" controversy. (Clough declined to be interviewed for that article.) Their piece breaks little new ground but provides a useful recap of the controversy and its aftermath. One of its minor revelations is that at the Smithsonian's own public forum related to the "Hide/Seek" controversy, Apr. 26-27, "Mr. Clough will make introductory remarks but not take questions."
This posture is particularly problematic given the fact that he DID take questions (including one on "Hide/Seek") as the keynote speaker at the recent course for attorneys on "Legal Issues in Museum Administration," organized in Washington by American Law Institute-American Bar Association. (I reported on Clough's remarks here.)
In other recent "Hide/Seek"-related developments: The Corcoran Gallery in Washington, which achieved Culture War infamy with its last-minute cancelation of the 1989 Robert Mapplethorpe show, recently hosted a series of panel discussions (videos of which will soon be posted online) on: "Culture Wars: Then and Now."
And the Smithsonian has just published the detailed results of its "Hide/Seek" visitors' survey, which, for what it's worth, found (on p. 62) that 19% of visitors rated the show "superior," 51% "excellent," 26% "good", 4% "fair" and 2% "poor." This was pretty much on a par with the average overall ratings by exiting visitors for 70 Smithsonian exhibitions surveyed between 2004 and 2010.
As for the Smithsonian's own upcoming two-day forum on "Hide/Seek" (to take place in the Meyer Auditorium, Freer Gallery), no press release or agenda will be published before Apr. 13, but Smithsonian spokesperson Linda St. Thomas told me that the Apr. 26 program, 6-9 p.m., will likely be webcast and will focus specifically on "Hide/Seek."
That evening's program, she said, will include "a panel on curators' responsibilities and controversy, and another on presenting difficult or sensitive subjects, especially related to sexuality and gender. The Secretary, Julian Raby [director of Freer and Sackler Galleries and recently named the Smithsonian's arts advisor] and Richard Kurin [the Smithsonian's undersecretary for history, art and culture] will attend but will not be panelists. The two 'Hide/Seek' curators [David Ward and Jonathan Katz] will be on panels." There will, she said, be two opportunities for questions from the audience.
The next day's panels, 9 a.m. to 4:30 p.m., will cover "a range of topics, including museum stakeholders, presenting exhibitions in a national museum, and related cultural issues. [There will be] three sessions for Q&A."
Secretary Clough may be forced to endure some pointed Q&A at the Smithsonian's fiscal 2012 appropriations hearing before the House Subcommittee for Interior, Environment and Related Agencies, scheduled for 9:30 a.m., Apr. 7, Rayburn Building, Room B308 (subject to change). The hearing is open to the public.
To riff on that old Irving Berlin standard: "The show is ended, but the controversy lingers on."