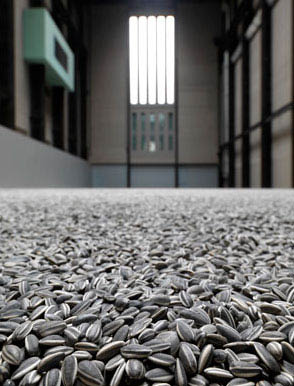 Ai Weiwei's "Sunflower Seeds," now at the Tate Modern
Tate Photography, © Ai Weiwei
[More on the Weiwei Fray: here and here.]
Speaking of Chinese dissident artist Ai Weiwei, this just in from Agence France-Presse:
Outspoken Chinese artist Ai Weiwei says he is offering his supporters
10,000 river crabs—an autumn delicacy—to "celebrate" the
government-ordered demolition of his new Shanghai studio.
Ai…was invited
to build the $1.1 million studio in a new art district in the
city's north, but officials have now declared it an illegal structure….

Shanghai called a six-month moratorium on major demolition and
construction projects during the World Expo to improve the city's air
quality, but since the event concluded on Sunday, halted projects have
resumed.

"Now the Shanghai city government has spare time to demolish Ai Weiwei's studio," the artist wrote on Twitter.
Ai's Chinese-language Twitter site is here.
And in other disheartening news on this artist: I had neglected to mention in my China report of yesterday that visitors to Ai's "Sunflower Seeds" installation in the Tate Modern's monumental Turbine Hall were barred from treading upon the 100 million individually crafted "seeds," very soon after the show's Oct. 12 opening. On Oct. 14, Mark Brown of the British Guardian reported that the installation was closed to foot traffic.
In an Oct. 22 update on its webpage for the exhibition, the Tate explained why:
Although porcelain is very robust, we have been advised that the interaction of visitors with the sculpture can cause dust which could be damaging to health following repeated inhalation over a long period of time. In consequence, Tate, in consultation with the artist, has decided not to allow members of the public to walk across the sculpture.
The Tate's description of "Sunflower Seeds" states that the work "invites us to look more closely at the 'Made in China' phenomenon"…
…maybe in more ways than originally intended!