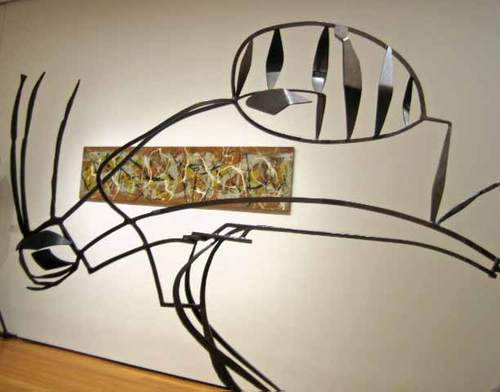 With my typing fingers entangled in ribbons of red tape (related to my late father's estate) I won't have time today to give you my extended take the Museum of Modern Art's artistically rich but interpretively disappointing Abstract Expressionist New York show, which opens on Sunday and has already garnered mixed, jump-the-gun reviews. Whatever you think of the for-beginners-only wall texts and labels, you can't help being
wowed by the artworks and their installation—many intriguing
juxtapositions, along with powerful single-artist concentrations.
Chaos and Classicism
Just to show that I've been on the scene (if not on the blog), here's my press-preview video of Ann Temkin, MoMA's chief curator of painting and sculpture, describing insights she gained by viewing her own agglomeration of some 250 works (many dusted off from storage) from MoMA's permanent collection.
As I turn my camera on David Smith's "Australia" while Temkin discusses it, you'll not only see a Jackson Pollock peeking through the sculpture's apertures; you'll also spot the head of MoMA's director, Glenn Lowry framed by Smith's drawing-in-air: