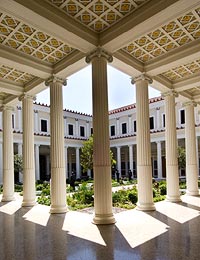 The Getty Villa, Malibu
In his LA Times piece today, Jason Felch returns to his Getty beat, reporting that Getty Foundation director Deborah Marrow would be named today (as has now been officially announced) as the J. Paul Getty Trust's interim president and CEO. Felch also provided details on the cause of death of James Wood, the president and CEO of the Trust: He died in his sauna of a heart attack.
Most importantly, Felch discusses the issue raised in April by the LA Times' art critic, Christopher Knight, which I touched on in my CultureGrrl appreciation of Wood and also at the end of my KCRW radio commentary on his passing.
Felch writes:
Current and former Getty officials, most speaking on background to avoid
offending Wood's family, said Wood's passing presented the Getty with a
unique opportunity to resolve a longstanding issue.

The Getty's unusual organizational structure—a nonprofit trust run by a
chief executive who oversees four operating programs, the largest of
which is the museum—has been a source of internal conflict over the
years. Given the completion of the Getty's ambitious building projects
and recent budget struggles, many said Monday that it [the organizational structure] should be
reconsidered.
As part of this exercise, it would be useful to look back at the Getty's founding principles and how far the Trust diverged from them when it grew from a relatively modest museum in Malibu to a two-campus institution, with the December 1997 opening of its six-building, 24-acre Los Angeles facility.
Back in those heady, sky's-the-limit days, the Getty wasn't merely a quadripartite institution; it had seven different programs: the Museum, Research Institute and Conservation Institute (all still active), as well as a Grant Program (now the Getty Foundation), an Information Institute (using technology to disseminate art knowledge), Education Institute, and Leadership Institute (which was later folded into the Foundation and has recently moved to Claremont Graduate University, with financial support from the Getty).
This proliferation of programs, since trimmed back but still far-reaching, bears little ressemblance to what megabucks founder J. Paul Getty had in mind—a mere art museum. But at his death in 1976, he left to it such a superfluity of resources—some $700 million in Getty Oil stock (which grew to $1.7 billion in 1983, when Getty Oil was acquired by Texaco)—that responsible museum professionals felt impelled to devise myriad ways to spend this windfall, to the benefit of art, culture and the public.
It's worth noting that back in 1998 (when I wrote a long article for the May issue of Art in America about the Getty and its new Richard Meier-designed facility), the Trust's endowment was about $4.5 billion—the same amount as in its most recent annual report (for fiscal 2009). When I wrote my AiA article, the Getty's endowment was about five times that of the Metropolitan Museum; now it's less than two and a half times the Met's reported $1.86-billion total endowment funds.
The Getty has recently made many recession-driven emergency cuts. But going forward, it needs to reimagine itself more comprehensively for the new century, coming up with an institutional and programmatic structure that functions smoothly—something more workable than the current four-headed monster. Any new plan, as Christopher Knight has already suggested, should be based upon the principle that the museum—founded by J. Paul Getty and now possessing important and valuable collections—needs to be first among equals, driving all the programs.
In rethinking the Getty, the comments made to me long ago by George Goldner now seem particularly prescient. Goldner was the Getty's drawings curator from 1984-93, before assuming his current post as chairman of drawings and prints at the Met.
Some Goldner outtakes from my 1998 article, which still resonate today:
—The money left behind by J. Paul Getty should have been used principally to build great collections. The Getty should have been the greatest museum in this part of the historic evolution of museums. Instead, it has become a very good one.

—Far too much money has been spent on the building [$1 billion] and on programs which have had limited success.

—They should have 2,000 drawings instead of 500 [and] more than one van Gogh painting, three Cézannes and one Manet. [That was in 1998.]

—Most of the interaction [among the institutes] was not positive. They competed with each other for money.
Moving forward, the Getty should no longer be a loose federation of separate and sometimes skirmishing fiefdoms. Its components should be entirely collaborative and coordinated, under the auspices of an outstanding museum professional—someone capable of engineering this overhaul, who is likely to stick around for the long haul.