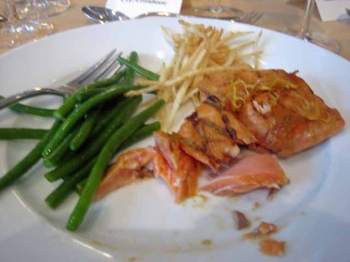 Fabulous fare at press lunch for the National Museum of Qatar, served today at the Museum of Modern Art
What, no ketchup? French fries but no ketchup?!?
After having been miffed that the NY Times had already been served a full-course meal of publicity before the rest of us scribes had even unfolded our napkins at today's press lunch for the planned National Museum of Qatar, I promised to bring you CultureGrrl's first (and presumably last) foray into "ketchup journalism" (as distinguished from "catch-up journalism," in which I declined to partake).
Little did I know that the menu would actually include something compatible with the tomato-based condiment (which I never use). The Glorious Food-catered, perfectly seared salmon, the al dente string beans and crisp (ketchup-less) french fries made this one of the most satisfying press lunches (from a culinary standpoint) that I have ever attended. (Believe me, I've chewed quite a few.)
I wasn't treated to a sour grapes compote, as I had predicted. Still, I got my just desserts for whining about the privileged access granted to the Times: The heavenly-scented chocolate mousse was laced with nuts, to which I am violently allergic. This was pure torture, because I'm a choco-holic. I received raspberries instead (appropriate, right?).
Let me now digest this meal with a little bile: One reporter made a point of catching up with me outside afterwards, to tell me that he felt exactly as I did about our second-class news status. A very distinguished critic sent me an e-mail stating that he although he didn't want to be identified, he did want me to use this comment:
With limited resources and space, one significant news organization [trust me, VERY significant] lets the PR enablers know that it will often choose not to cover such events when favoritism is offered to one outlet.
I suppose the "PR enablers" may be able to guess which news organization this may be. Or maybe there are several.
I will lift my gaze from my plate to make one substantive comment about the proceedings: It's ironic that the Qataris, who say that they want to build their new museums to take control of the way in which their own culture and heritage are presented to the world, have delegated so much of that task to foreigners: Peggy Loar is director of the National Museum of Qatar (formerly director of the Smithsonian Institution's Traveling Exhibition Service (SITES) and of the Wolfsonian Museum in Miami); Roger Mandle is executive director of the Qatar Museums Authority (formerly deputy director of the National Gallery in Washington and president of the Rhode Island School of Design); Paris-based Jean Nouvel is the architect.
I should also mention that although the event was held at the Museum of Modern Art, I was informed by several MoMA-ites that the museum has no connection with the Qatar museum project (notwithstanding the membership of MoMA's board president, Marie-Josée Kravis, on the board of the Qatar Museums Authority). Loar, Mandle, Nouvel and Kravis all addressed us at the press lunch. MoMA's director, Glenn Lowry, was not in evidence, but the Guggenheim Museum's director, Richard Armstrong (involved in his own Middle East project in Abu Dhabi), was among the many American museum officials and art-market luminaries (both dealers and auction-house officials) in attendance.