I guess that the Palace of Versailles hasn't yet had its fill of controversy.
Having mounted a 2008 show of Jeff Koons' works in the royal preserve, it's tapped Takashi Murakami for a retrospective exhibition, Sept. 12-Dec. 12. The plan (but not the dates) was announced last September.
Agence France-Presse reports:
Since controversy provoked by the Jeff Koons exhibition, the palace, a symbol of the system of absolute monarchy, is being careful to avoid displaying works with pornographic or morbid connotations that might offend some visitors.
I guess that rules this one out: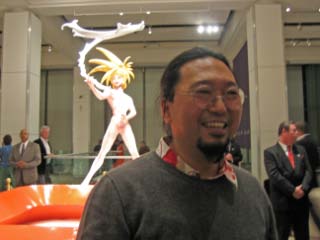 Murakami exulting in front of the masturbational "My Lonesome Cowboy," immediately after its $15.16-million sale at Sotheby's during the art market's good old days
…and probably also this: