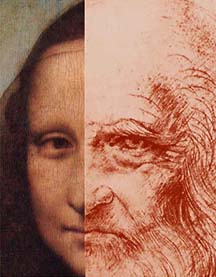 "Mona/Leo" by Lillian Schwartz: Fusion or delusion?
To the arsenal of Leonardo da Vinci researchers, we may now have to add not only medical science but also grave digging.
The Times of London, which earlier this month brought us Mona Lisa's cholesterol problem, now reports:
Scientists seeking permission to exhume the remains [in France] of Leonardo da
Vinci plan to reconstruct his face to discover whether his masterpiece,
the Mona Lisa, is a disguised self-portrait….Recreating Leonardo's face could test the theory of Lillian Schwartz,
an American expert who drew on computer studies to highlight apparent
similarities between the features of the Mona Lisa and those of a
self-portrait by the artist.
Who is Lillian Schwartz, the creator of the fused physiognomy, above? Not an art historian. The biographical information on her website tells us:
Lillian Schwartz is
best known for her pioneering work in the use of computers for what
has since become known as computer-generated art and computer-aided
art analysis, including graphics, film, video, animation, special
effects, virtual reality and multimedia. Her work was recognized for
its aesthetic success and was the first in this medium to be acquired
by the Museum of Modern Art.
I haven't double-checked this with MoMA (which doesn't include her in the "Collection" section of its website), but we'll let that pass. What we don't see in her eight-paragraph bio is any scholarly expertise in the art of the Renaissance in general or Leonardo in particular. (But she has worked "with [unnamed] colleagues to construct three-dimensional models of the refectory at
Santa Maria [delle] Grazie, to study the perspective construction of Leonardo's
"Last Supper.")
Apparently her self-portrait theory, which has been around for many years, is now being taken seriously. John Follain of the Times tells us:
Talks about the exhumation with French cultural officials…have resulted in an agreement in principle, according to
the Italian team, and the project could receive formal permission this
summer….

Giorgio Gruppioni, an anthropologist, said…, "If we manage to find his skull,
we could rebuild Leonardo's face and compare it with the Mona Lisa."
While we're at it, can we also test to see if he was taking Lipitor? I say, let sleeping old masters lie.
Contacted by the Times, former Getty Museum drawings curator Nicholas Turner (who issued a 2008 owner-commissioned report
supporting the controversial attribution to Leonardo of a drawing of a
young woman in profile, sold at Christie's in 1998 for $21,850)
debunked the Mona Lisa self-portrait theory and channeled the
artist's spirit to answer: What would Leonardo say?
If Leonardo heard about all this, he'd have a good chuckle.
Maybe he'd just be rolling in his grave.
Wait a minute, Leonardo fans! What's the story about that mysterious maybe-Leonardo at the Boston Museum of Fine Arts?
When I know more, you'll know more. (Or maybe we'll just have to wait for the Dan Brown sequel.)