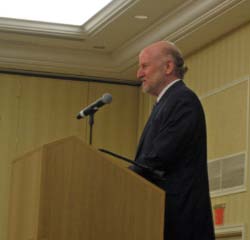 Rocco Landesman, speaking last month in Brooklyn, NY
When Rocco Landesman, the new chairman of the National Endowment of the Arts, was in New York on Oct. 21, I didn't merely attend his speech. I also interviewed him.
On the "Leisure & Arts" page of tomorrow's Wall Street Journal, you'll see that Landesman has in no way curbed his tongue since the infamous Peoria incident. I like him. I enjoy his candor. I agree with at least some of his objectives. But I do worry that he's going to get himself (and his agency) in trouble if he doesn't start watching his words and considering how they'll play in Peoria.
When my piece is online, I'll be updating this post with the link. You can judge for yourself.
UPDATE: Here's the piece—Landesman Produces Controversy.