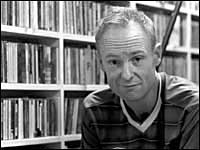 John Schaefer, host of WNYC's "Soundcheck"
Now that I've been pummeled on my own blog by a CultureGrrl reader, I'm going to take some more punches on New York Public Radio's "Soundcheck Smackdown" (on which I've come out swinging once before). This time, my assailant will be Nick Gillespie, editor-in-chief
of Reason Online, on the topic of "the effectiveness and appropriateness of music [and also, I hope, art!] as a diplomatic tool." WNYC's preview for today's segment is here.
Which side do you think I'm on? As usual, my views are a bit nuanced. But you can look here and here for some clues.
If all goes according to plan, Nick and I will be duking it out on New York Public Radio's (WNYC's) Soundcheck with John Schaefer, 2-2:35 p.m. on 93.9 FM in the NYC area, or live on the web (if you click the top red arrow in the lefthand column, here). I'll post the audio on CultureGrrl later today, after it's available online.
Uh-oh! This Gillespie guy sports a black leather jacket and looks a whole lot tougher than me. Run away!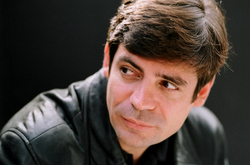 Nick Gillespie