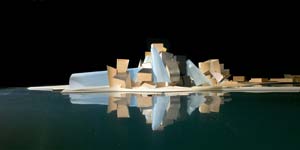 An early model of Frank Gehry's Guggenheim Abu Dhabi
I couldn't leave to see Vermeer's "Milkmaid" without spilling this tidbit from Page A16 of today's NY Times—an ad with an image of a Frank Gehry model at the bottom, enigmatically titled, "Request for Interested Contractors to Submit Pre-qualification."
"Pre-qualification for what?" you ask.
For the Guggenheim Abu Dhabi, of course. From the ad we learn that "the estimated cost of construction is in excess of $750 million." Companies that had turnovers of less than $1 billion in 2008 need not apply. Application fees of $10,000 must accompany your completed "pre-qualification questionnaire."
For more details that have emerged about the project, including names of three builders said to be planning to compete, go to a report published on Friday in Business Intelligence Middle East. I tried to confirm that article's details with the Guggenheim. But the museum's spokesperson, Eleanor Goldhar, referred me to Abu Dhabi's Tourism Development and Investment Company. I have a query pending there.