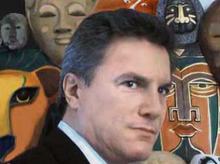 Jerome Weeks, ArtsJournal's "Book Daddy"
This is too good (and too long) to be a mere blog post.
Inspired by David Smith's recent book, Money for Art: The Tangled Web of Art and Politics in American Democracy, ArtsJournal blogger Jerome Weeks and has posted a detailed, two-part meditation on the past and future of federal arts support that should be required reading for Rocco Landesman (scroll down) and anyone else concerned about the future of federal support for the arts.
While crediting the importance of Smith's illuminating account of the successes, failures and controversies involving the National Endowment for the Arts, Weeks (a veteran book critic and the arts producer/reporter for KERA, Dallas-Fort Worth's public radio and television outlet) comes out more squarely on the side of the cutting edge in the debate over whether public funds should go towards work that is popularly pleasing and accessible or that which is challenging and experimental. CultureGrrl agrees with Weeks (scroll down). Smith, a senior lecturer in history at Baylor University, seems more cautious and ambivalent, as demonstrated by his recent Op-Ed piece for the Dallas Morning News.
Weeks has made the case for a reenergized NEA more eloquently and thoughtfully than any commentators I've recently read on the subject. To read his posts, go here and here (and then go here). This essay needs to be picked up by a large-circulation, mainstream media publication. It's essential that Weeks' views be widely heard and heeded.
From all accounts (including his own), Landesman, President Obama's nominee for NEA's chairmanship, seems to be in the camp of those who don't believe that nonprofit arts groups should play it safe. The big unanswered question is whether he has the diplomatic skills to navigate the political shoals that led to the the destructive Culture Wars of the 1990s.