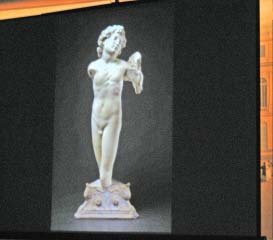 Tom Campbell's PowerPoint slide of a putative Michelangelo, "Young Archer," coming to the Met on 10-year loan
During the reception before the Metropolitan Museum's press lunch on Monday, I chatted with James Draper, the museum's curator of European sculpture and decorative arts (whose French bronze show I had recently admired). I asked him about his controversial 1996 endorsement of scholar Kathleen Weil-Garris Brandt's attribution to Michelangelo of a marble statue of a youth that had long graced the rotunda of the French Cultural Services townhouse, located just a stone's throw from the Met on Fifth Avenue.
He informed me that there's been a growing consensus of support among Michelangelo experts, including Cambridge Professor Paul Joannides, for attributing the statue to the master. Joannides confirmed to me by e-mail today that he has long supported the attribution and "came across further evidence" for it, which he published in the August 2003 issue of Burlington Magazine ("Michelangelo's Manhattan Cupid: a correction," pp. 579-580).
What Draper didn't tell me was that Tom Campbell, the Met's director, was going to announce to the assembled journalists, as soon as we finished our coffee and cookies, that the museum would be displaying the lad beginning Nov. 3 on the first-floor Vélez Blanco Patio. He will remain there for 10 years, on loan from the French State.
The controversy over the sculpture began when then NY Times art critic John Russell gave Brandt's attribution a front-page endorsement on Jan. 23, 1996. She had hypothesized that this was a work by the teenaged Michelangelo (the same murky period to which the Kimbell's new acquisition, a painting of "The Torment of St. Anthony," is ascribed). Brandt suggested that the French-owned sculpture could be a "Cupid" fleetingly mentioned by Condivi and Vasari, Michelangelo's 16th-century biographers. The Met's press release calls him: "'Young Archer,'
attributed to Michelangelo."
The gawky, fragmentary, water-damaged, 3-foot-high nude youth, with a vacuous expression and lacking the well-defined musculature characteristic of Michelangelo's later work, was originally to have been exhibited at the Met soon after it was attributed to Michelangelo by Brandt, Draper and several other scholars. But the exhibition of the French-owned work was to have been co-organized by the Louvre, whose then sculpture curator, Jean-René Gaborit, didn't support the Michelangelo attribution, as I reported (scroll down) for Artnet in March 1996. Gaborit was the "dissenting curator" of the Met's press release.
Other major scholars—most notably Leo Steinberg, professor emeritus at the University of Pennsylvania; the late
James Beck, then professor at Columbia University, and Creighton Gilbert,
professor emeritus at Yale University—were likewise unconvinced.
As I later
reported
for
Artnet
(scroll down), in April 1996:
Philippe de Montebello, director of
the Metropolitan Museum, now says
that the joint Louvre-Met Michelangelo
exhibition, if any, will occur three to
four years from now and will be a
"dispassionate display…not the
consecration of an attribution." In a
March 22 [1996] article about Brandt's
recent address to an audience of art
historians at the Louvre, Agence
France-Presse reported Gaborit's
opinion that "the sculpture might be a
work of a late Florentine mannerist."
The Met intends to exhibit the sculpture along with "illustrated text panels outlining the "Young Archer's"
history and indicating various scholarly schools of thought so that viewers can
make up their minds accordingly." Campbell told us the the Met will also host a scholarly symposium "to contribute to the debate."
I wrote extensively about this controversy, with detailed quotes from the experts, for the Wall Street Journal on Feb. 29, 1996 and for Art in America (Michelangelo/not Michelangelo) in April 1996.
I can't give you a free link to the WSJ article, but I am able to publish my text in full, at the link below:

"Art: Michelangelo(?) in America…"
By Lee Rosenbaum
Wall Street Journal, Feb. 29, 1996
New York — New York loves to discover a new celebrity. The newest rising star over Gotham is a little boy with no arms, no lower legs, no penis and not even any clothes. To make the discovery of this media darling even better copy, he was found right on Fifth Avenue. Better still, this uptown waif had a stunning pedigree. At least he did if you agreed with the art historians and journalists who leapt on the bandwagon of the woman who rescued him from neglect. Kathleen Weil-Garris Brandt did not hesitate, in a publicity-seeking letter to John Russell of the New York Times, to declare that her physically challenged urchin was a lad of genius. Indeed, she said in the interview that erupted on the front page of the paper, he was a long-lost, early offspring of Michelangelo, the only statue by the Renaissance master in this country.
Why should anyone doubt this miraculous find, this happy attribution? Ms. Brandt is, after all, a professor, if not one of the best-known professors, at the prestigious New York University Institute of Fine Arts. Certainly, the local newspaper of record had no doubts. And the Metropolitan Museum (whose head trustee is also the chairman of the New York Times Company, Arthur O. Sulzberger) lost no time in trying to arrange a special joint exhibition with the Louvre. Franco-American cooperation is essential because the statue actually belongs to the French government, has in fact belonged to it for almost 45 years, ever since it bought the Fifth Avenue mansion whose architect, Stanford White, placed the marble youth in the center of the entrance rotunda of what is now the Cultural Services of the French Embassy.
There it languished for some 90 years, until it caught Ms. Brandt's eye last October. She had seen it before, as had various scholars before her, most of whom had dismissed it as an inferior work. Ms. Brandt's contribution to the status of the statue, so far, has been to attract public attention to its Michelangelo potential through a combination of media interviews and the gathering of support from colleagues. She says her actual research will appear eventually in the scholarly Burlington Magazine. But for now, the attribution basically rests on the assertion of Ms. Brandt and several eminent art historians. Other authorities disagree.
Three of the world's leading Renaissance-art experts — professors Leo Steinberg, Creighton Gilbert and James Beck — all withhold support for the Brandt attribution.
The most decided detractor is Mr. Steinberg, art history professor emeritus at the University of Pennsylvania, who states flatly that Ms. Brandt's attribution is wrong. In response to a request for comment, Mr. Steinberg prepared an erudite, detailed, two-page statement dissecting the sculpture's anatomical anomalies, but he would only permit quotation in its entirety.
Creighton Gilbert, art history professor at Yale University, whose most recent tome on Michelangelo was published two years ago, had not yet seen the sculpture when interviewed, but declared that "the odds are poor" for admitting it to the oeuvre of the master. "Michelangelo," he noted, "was always famous, so that everyone who had one was proud of having one. The likelihood that one would go unnoticed is very peculiar and would need to be explained."
James Beck, art history professor at Columbia University and one of the few scholars who continues to protest the restoration of the Michelangelo frescos in the Sistine Chapel (for which Ms. Brandt served as advisor), recently scrutinized the sculpture but declined to pronounce final judgment until Ms. Brandt publishes her research. Mr. Beck did, however, comment that calling the statue an early work by the artist was "the best way to get around its feebleness." But even the teenage Michelangelo "wouldn't have made certain kinds of odd presentations like the big head, big neck, skinny body" and "very odd turn of the body," asserted Mr. Beck.
Ms. Brandt has tentatively dated the Fifth Avenue sculpture just before Michelangelo's first masterpiece, "Bacchus" (1496-7), making its weaknesses even more difficult for Mr. Beck to accept. Also suspect, he said, is its lack of well-defined musculature — the signature style of the sculptor who dissected corpses to learn anatomy's secrets. The absence of bravura modeling "is an aspect of Michelangelo that I'm unfamiliar with," Mr. Beck deadpanned. "She may have discovered a new period."
Undaunted by such doubts, Ms. Brandt ascribes the uncharacteristic awkwardness of the body to the inexperience of a fledgling genius in "a phase of daring experimentation" but "in every way less developed and confident in handling and approach to the body" than he was with "Bacchus."
The Fifth Avenue artist's technique with the chisel, according to Ms. Brandt, is consistent with known works by Michelangelo, as are the statue's "ambiguous rapturous expression" and "sense of inhabitation, vividness, coherence and excellence." The "unusual proportions of the figure," she says, are appropriate to a boy "emerged from babyhood but not yet in the bloom of adolescence."
As for the lack of muscle, she strongly relies on comparisons to a wooden crucifix that she says is the only other sculpture (also an early work) properly attributed to Michelangelo in this century. Tracked down in 1963 by German scholar Margrit Lisner in the Friary of Santo Spirito on the outskirts of Florence, this figure is similarly slim and untoned. In contrast to the Fifth Avenue sculpture, though, its head and neck are small relative to the torso. Although Ms. Brandt claims "an overwhelming consensus" of experts now accepts the crucifix as a Michelangelo, its authorship is still in dispute by some, including Profs. Steinberg, Gilbert and Beck.
The consensus that Ms. Brandt claims for her own discovery is similarly shaky. Among her most eminent supporters is her former teacher at Harvard, Sydney Freedberg, now curator emeritus at the National Gallery of Art in Washington. But Mr. Freedberg has not actually seen the piece; he was persuaded by Ms. Brandt's analysis, scholarship and photographs. The statue "is a work of extraordinary promise," declared Mr. Freedberg, while adding that he had not closely studied Michelangelo's early work, because "the mature work is infinitely more impressive."
Nicholas Penny, Renaissance-painting curator at the National Gallery in London, also supports the Michelangelo attribution but declined, when contacted, to explain why. Mr. Penny helped organize his museum's 1994 exhibition, "The Young Michelangelo," which Ms. Brandt (who also participated in it) credits with preparing her to make her discovery. Mr. Penny referred questions to the National Gallery's press spokesperson, who declared, "We're not involved in this reattribution as an institution."
Another supporter named by Ms. Brandt, David Summers, art history professor at the University of Virginia, candidly admitted he was "not a connoisseur" and had "drifted away from Michelangelo" since publishing his book on the artist 15 years ago. He said his favorable reaction to the Fifth Avenue sculpture was based only on the cropped photograph printed in the New York Times.
Crucial to legitimizing Ms. Brandt's scholarly coup was the enthusiastic support of James Draper, European-sculpture curator at the Metropolitan Museum, who has "no question whatsoever" that the statue is by Michelangelo. Four years ago, however, he published an assessment of the same sculpture in which he was as dismissive as its current detractors. In a monograph on Bertoldo di Giovanni, Michelangelo's early mentor and Donatello's pupil, Mr. Draper noted that another scholar, Alessandro Parronchi (who knew the work only from a photograph), had assigned the sculpture to Michelangelo. Rejecting Mr. Parronchi's 1968 published assessment, Mr. Draper observed that "the marble
legs are stodgy, nearly parallel. The old photo was extremely flattering to this poorish piece. . . . It is too obviously unanatomical to be by Michelangelo."
Mr. Draper now insists that the sculpture "all comes alive with decent lighting," although he still calls its execution "faltering." He believes "it's not a masterpiece, but it's not `poorish.'"
Interviewed before a Michelangelo exhibition-planning trip to the Louvre, the Met's director, Philippe de Montebello, flatly denied Ms. Brandt's assertion that he had asked her to curate the proposed show. Rather, it would be the responsibility of Mr. Draper and his counterpart at the Louvre, Jean-Rene Gaborit, Mr. de Montebello declared.
In support of her attribution, Ms. Brandt has a predecessor in Stefano Bardini, who, trying to sell the statue at Christie's in 1902, called it a Michelangelo in a catalog he prepared personally. But the auction catalog prepared by Christie's merely calls it "School of Michael Angelo." This was not enough to attract a buyer at the auction. The piece was later sold privately, described fancifully as a recently excavated antiquity, to Stanford White. He installed it in the 972 Fifth Avenue residence that his firm designed for the Payne Whitney family. The French Government acquired the building in 1952, along with its now-famous tenant.
Denis Delbourg, cultural counselor of the French Embassy in New York, said that although France now owns the statue, he hopes it will remain in the officially landmarked building where Stanford White placed it. He added that although Mr. Gaborit of the Louvre had "reserved judgment" as to whether the embassy had a Michelangelo on its hands, he "agreed absolutely," after having recently viewed the sculpture, that "it is an Italian Renaissance piece, not one from a later period."
Offered by Christie's as the infant Hercules, the sculpture has instead been linked by Ms. Brandt to a "Cupid" fleetingly mentioned by both Ascanio Condivi and Giorgio Vasari, Michelangelo's 16th-century biographers. Like Cupid, the Fifth Avenue boy bears a quiver (unfinished, as are other parts of the sculpture), which poses yet another art-historical conundrum: It is in the unusual form of a lion's paw.
The lost "Cupid's" fate "is a famous puzzle that's been bouncing around for generations," according to Mr. Gilbert. "The usual presumption is that it was lost and destroyed." "Cupid" is one of four important recorded but lost Michelangelo sculptures from the 1490s, according to Michael Hirst, professor at the Courtauld Institute of Art in London. In his catalog essay for the 1994 London show, Mr. Hirst observed that another of the four, "Sleeping Cupid," has invited "repeated attempts to identify it with existing carvings."
Ms. Brandt understandably bristles at the suggestion that her discovery might be part of the grand tradition of Michelangelo misattributions. The most high-profile mismatch occurred nine years ago when the late eminent Michelangelo expert, Frederick Hartt, breathlessly announced he had discovered an 8-inch stucco torso that he said had been Michelangelo's working model for the monumental David.
When asked for the details of documentation supporting her own attribution, Ms. Brandt snapped, "That's not your issue. That's my issue." She says she is saving her research results for her own article, but also admits that "this is the beginning of the story, not the end. There is more work to be done by myself and particularly by others who are specialists in the New York gilded age and the history of European collections."
Scholars who have devoted their lives to Michelangelo studies expressed skepticism that Ms. Brandt had uncovered startling new documentary evidence to make her case. "I challenge her," said Mr. Beck, "to get busy and publish this thing and then we can have all the debate and discussion."
Ms. Brandt pronounces herself prepared for the scholarly backlash. "Controversy," she noted gamely, "is an appropriate part of how one comes to a consensus."