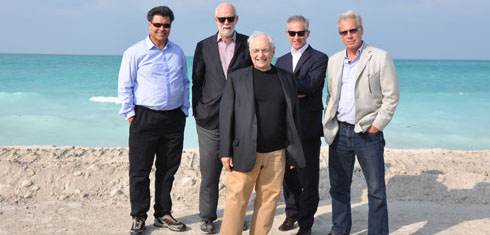 Abu Dhabi Boys (lead singer, Frankie Gehry)
Left to Right: Lee Tabler, CEO of Abu Dhabi's Tourism Development and Investment Company; Richard Armstrong, director, Solomon R. Guggenheim Foundation; architect Frank Gehry; Juan Ignacio Vidarte, Guggenheim's chief officer for global strategies and director, Guggenheim Bilbao; Frederick Henry, Guggenheim trustee
I've had occasion in the last few weeks to interview a few recently anointed museum directors, and I've been struck by the differences in how they approach their new assignments. In future posts, I'll be discussing someone who hit the ground running as soon as he walked in the door, and someone else who is brimming with new ideas, even before setting foot in his new office.
Then there's Richard Armstrong, the new director of the Solomon R. Guggenheim foundation, who recently invited me to his office for a chat. The far-flung enterprise over which he presides is much more complex than the operations overseen by my other two aforementioned interviewees, which may explain why Richard still seems to be in his listen-and-learn phase, three months after his arrival on Fifth Avenue from his long-time post as director of the lower-profile Carnegie Museum of Art, Pittsburgh.
One of his first missions involved trekking to Bilbao, Venice and Berlin, where the Guggenheim has satellite museums, and Abu Dhabi, where it eventually will. (When we spoke, he had been everywhere but Berlin, where he was about to travel.)
Since the word "global" goes with "Guggenheim" like bread with butter, let's start with Armstrong's take on Abu Dhabi. The following are excerpts from his remarks:

His impressions during his January visit:
You see great ambition and there's a hunger—an intellectual hunger—not just there but in the whole region. They want EVERYTHING, which is kind of interesting.
[I mentioned that this cultural interest, thus far, has largely been confined to the region's leaders, rather than the broader population.]
I was talking to someone about this after I came back and he said: "You have to liken it to William Randolph Hearst and America in the 1880s." The leaders and the eccentrics always push forward the culture at large, and then people like you and me grow up thinking it's a given. It's a march of progress.

The design and construction process:
Frank Gehry is pretty far along on design. The museum will open in 2012-13 and the first groundbreaking can be this autumn. When I visited Saadiyat Island [where the new Guggenheim will be built], I saw a fair amount of breakwater activity going on. The museum is on a promontory, so they're obliged to change the shoreline to accommodate the building. They're literally building a seawall and then they're going to pump out water and change the shape of the surrounding land mass.

The neighborhood where the two museums are going to be—the Louvre and the Guggenheim—needed to be regraded and changed topologically to some degree, so that's happening. There's a very big bridge from Abu Dhabi City over to this island that will be finished in the next few months.
I asked Armstrong the cost of the Guggenheim's building project—something that the museum has never announced. (The cost of the Louvre Abu Dhabi's building has been estimated at $525 million.) He told me that the total cost "isn't clear yet. I'll be able to tell you more about that in 6-8 weeks, probably." The "licensing fee" paid by Abu Dhabi for the Guggenheim's name, he said, was about
$64-65 million (compared to $520 million for the Louvre's "brand"). (If the Guggenheim's licensing fee has been previously reported, I'm not aware of it.)

The roles of Tom Krens (the Guggenheim's past director and now senior adviser for international affairs) and Juan Ignacio Vidarte (chief officer for global strategies):
Vidarte is coordinating Abu Dhabi and Tom is much more on the ground in Abu Dhabi and he has a longstanding relationship with Frank [Gehry]. Right now that's one of the most crucial aspects of being able to realize this thing.

Krens reports to a committee that's composed of four board members and me, and he's charged with making that project happen in a timely, defensible and on-budget way.
Concerns about possible censorship of sexually explicit art and about past human rights violations in Abu Dhabi:

My impression is that those are all things that are surmountable. [CultureGrrl:
In other words, you'll be able to show whatever you want?]
That's my impression. That's what we've been reassured.

They just took down a large Picasso exhibition. If there was ever an explicit and highly erotic artist, it might have been Picasso. [CultureGrrl: Did they show his erotic work?] Yes they did.
It was in the Emirates Palace and it was a loan exhibition from Musée Picasso.

We have the report from the Human Rights Watch and we're keen on making certain that everyone is treated justly. We want to be vigilant in that direction. It's a very hard thing to delve into because in my visit there, I didn't have my own car. I didn't know my way around. I was being driven and shown. I'll be back shortly and repeatedly.


When I asked if Abu Dhabi would be the last of the satellites, he surprised me with this reply:
For the moment. But let's be honest with one another: If you're meant to have a global network, there's not deep connection to Asia at present. If one were truly putting together a pearl necklace across the globe, you'd say there's a large part of the world that's not being addressed at present.
It's not like they haven't tried: Tokyo, Taichung, Hong Kong and Singapore have all been on the agenda at one time or another, with Zaha Hadid's design for Taichung, Taiwan, getting farthest, before being quashed by political opposition.
For a much more detailed report on cultural development in the United Arab Emirates, see Sharon Waxman's An Oasis in the Desert, from February's ARTnews.
COMING SOON: More from my conversation with Richard Armstrong.
In the meantime, if you'd like me to keep these museum-director interviews going, please join the contributors' club (which so far consists of five much appreciated CultureGrrl fans who clicked my "Donate" button, above on the right).