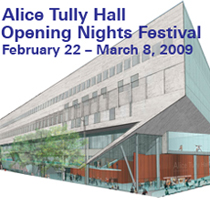 I attended yesterday's press preview of Diller Scofidio + Renfro's
completely
transformed Alice Tully Hall at Lincoln
Center and I expect to attend the inaugural concert on Sunday. After
that, I'll have much more to contribute, including an irreverent
photo essay (but only if someone feels moved to click my dormant "Donate"
button, on the right, sadly untouched all day yesterday).
But what's astonished me in the run-up to the concert hall's reopening
week
is the rush of a handful of newspaper and magazine critics to review
what was essentially a construction site. What's this compulsion to get
a "scoop" on a building that's going to be around a very long time?
I would never review an art exhibition before it's been totally
installed or a painting before its last brushstroke has been applied.
It likewise makes little sense to review a building (here and here) and its acoustics (here) before the place is ready.
There's been a bizarre architecture critics' arms race occurring for this and other recent projects, with
key tastemakers getting private tours much earlier thanf the journalistic masses. This
privileged treatment seems to have the desired effect—favorable
reviews that essentially mimic the spin spoonfed by the architects and
their clients. These premature assessments by leading writers set
the tone for pieces that follow in other publications.
Who would go up against the Fastest Pen in the East,
the New Yorker's Paul Goldberger? He not only published a Tully rave
while the place was still swarming with hardhats, but also posted this
unintentionally comic online video that shows just how unready for prime time the place (other than its front lobby) really was: