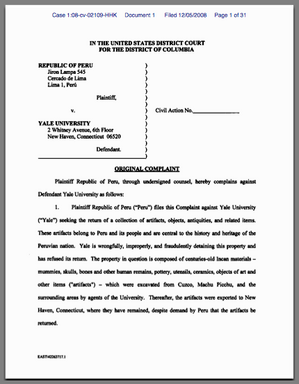 First page of Peru's complaint against Yale, filed Friday in U.S. District Court (click to enlarge)
Remember when Yale and Peru had supposedly reached an accord, more than a year ago, over artifacts excavated in the early 1900s by Yale scholar Hiram Bingham III?
That was then. Now Peru is suing.

Paul Needham of the Yale Daily News today reports:
The Republic of Peru has quietly filed a lawsuit against Yale, officially turning a nearly
century-long dispute over the rightful ownership of Inca artifacts into
a legal battle, the News has learned.

Peru's 31-page complaint, accompanied by some 26 exhibits, was
lodged in the United States District Court for the District of Columbia
on Friday by the Washington law firm that has represented Peru since
last fall….

Peru now seeks "the immediate return of all such property as well as
damages that it has suffered on account of Yale's persistent breach of
its obligations and profit at the expense of the people of Peru."
Opponents to the tentative accord had included Eliane Karp-Toledo, the wife of Peru's first indigenous president, who sharply criticized it last February in a NY Times Op-Ed piece, asserting that "Peru's sovereign right to the entire collection is not acknowledged,
and it is clear that Yale would keep a significant proportion of the
materials."
Yale's general counsel, Dorothy Robinson, told Needham that she still hoped the dispute could be settled amicably.
I think they already tried that. When Robinson made that comment, the university had not yet been served with the papers. Judging from the first page, reproduced along with Needham's article, the arguments are anything but amicable:
Yale is wrongfully, improperly, and fraudulently detaining this property and has refused its return.
For you legal eagles, the case is: 08-cv-02109-HHK.