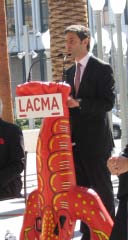 Watch Out for Those Claws!
Michael Govan behind the LACMA Lobster at the opening of Broad Contemporary Art Museum
As I mentioned in my previous post, Michael Govan, CEO and director of the Los Angeles County Museum of Art, wants to emphasize that merger talks between his institution and the financially moribund LA MOCA occurred because "MOCA came to us."
Trying to counter suggestions that he was nefariously plotting to annex the cash-poor, art-rich contemporary museum, Govan told me:
When times got tough and they wanted options to think about, we offered to craft what we thought was an exciting option: You'd join the boards in a complete partnership and you'd share responsibility in this big civic enterprise….

The conversation began with Jeremy [Strick, MOCA's director]. We started talking about the fact that they needed to expand [their space] for the collection. So we discussed 10,000 ideas, including [space in LACMA's buildings on] Wilshire [Avenue], the Broad building, the new building [now being constructed opposite LACMA's new Broad Contemporary Art Museum]. We talked about whether they wanted to do a show of MOCA's collection for a while, to get it out of storage. Merger only came up very late in the game.
But although Govan said he had previously (before merger discussions) offered free use of LACMA's space for displaying MOCA's collection, he wouldn't commit to renewing that offer, should MOCA accept Eli Broad's $30-million bailout.
"You can't pin me down," he told me, "because we don't know the future. It's up to us to make those decisions in a new environment, once we understand what MOCA is."
Regarding the pros and cons of LACMA's and Broad's dueling offers to secure MOCA's future, Govan said this:
Eli Broad has checks to offer. What do we have to offer? We have community spirit, a broad-based board, a good administrative background and a vision for the future. We didn't have millions and millions of dollars to turn over to them. I actually offered something different—a partnership.
That's nice, Michael. But MOCA needs lots of money. Do you think you can come up with the dough?
Yes, but you're also talking to an optimist who is in the midst of developing philanthropy in Los Angeles. I think we're on an upcurve and I think we're proving it. Over two years we're raising a lot of money and it's coming from young people, so I feel confident and I have reason to feel confident.
Sounds to me like a contest between Govan's optimistic vision vs. Broad's bucks-in-the-bank. Although I have deep respect for Govan's contemporary art creds and his deftness and effectiveness as an administrator, I still feel that putting a feisty, provocative contemporary art museum under the management of a conventional encyclopedic museum (okay, maybe a bit less conventional under Govan) is a MOCA-choker. And the next director, whenever he or she may succeed Michael, may not be as attuned to contemporary art imperatives as the founding director of Dia Beacon.
Govan argues otherwise:
Everybody said, "Merger is death." It's not death. It could be life, in a certain context. We love artists and we love MOCA. It's not to swallow them up. It would be strategic suicide to swallow them up.