It's a wall label so small and inconspicuous near the beginning of the Metropolitan Museum's just opened Beyond Babylon show (to Mar. 15) that if you didn't look for it, you would probably miss it: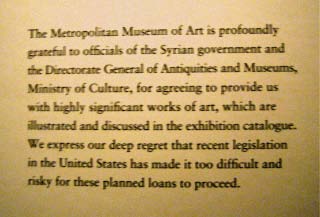 What IS that recent U.S. legislation referred to in this cryptic label, and how did it make it "too difficult and risky" for Syria to lend to the Met 55 works, already published in the exhibition catalogue?
It's the section on "Terrorism Exception to Immunity" in the National Defense Authorization Act for FY2008, signed by President Bush on Jan. 28. While it doesn't specifically apply to museum loans, it compromises the State Department's ability to guarantee immunity from seizure for objects loaned to museums by countries that are on the State Department's list of State Sponsors of Terrorism—defined as "countries determined by the Secretary of State to have repeatedly
provided support for acts of international terrorism."
Syria is on that list.
As explained to me by the Met's spokesperson, Elyse Topalian, the new law "permits private plaintiffs who were victims of state-sponsored acts of terrorism to file liens against certain property belonging to that state, while the property is in the United States….As far as the Museum is aware, the intersection of this law and the immunity from seizure protection offered under 22 U.S.C. §2459 has not been tested."
You legal eagles can find an explanation of the nettlesome §1083 here, by scrolling to p. CRS-48 (which is the same as p. 52 of the PDF file).
In her catalogue acknowledgements, Joan Aruz, curator in charge of the Met's department of ancient Near Eastern art, singled out Syria for special thanks because of its "extraordinary efforts…to realize this project." I'm no fan of state sponsors of terrorism, but I am a big fan of cultural exchange, regardless of the strained relations among nations. This is an issue that cries out for future clarification and resolution.
In the meantime, American museumgoers will be deprived of the chance to see 55 objects (the most to have been lent to the show by any country except Turkey) that were to have been in what is still a splendid 350-object display of objects from the second millennium B.C.
Here's just one of the show's no-shows, described in the catalogue as "a masterpiece of Late Bronze Age art in Syria":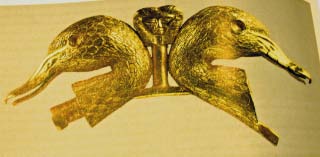 Duck Heads, gold, 15th-14th century B.C., National Museum, Damascus, Syria