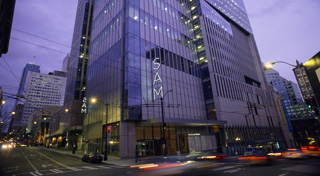 Seattle Art Museum, shouldering the offices of WaMu
In his remarks at last year's press preview for the expanded Seattle Art Museum, John Walsh, former director of the Getty Museum and a long-time friend of SAM's director, Mimi Gates, declared that Washington Mutual Bank (which jointly developed the museum-owned land) was "certainly a more reliable partner" than the Venetian
Resort-Hotel-Casino in Las Vegas, where the (now closed) Guggenheim Hermitage had been
housed.
Not any more.
The good news is that SAM's finances, according to its spokesperson, Nicole Griffin, are not intricately entangled with those of the failed bank, which in 2001 had initiated discussions for the public-private partnership. At the time, WaMu urgently needed more office space, as I reported in my 2007 Wall Street Journal review of SAM's new addition, designed by MAD Brad Cloepfil.
Griffin said, in response to my specific queries, that SAM owns no WaMu stock or bonds and that there are no WaMu donation pledges or construction loans outstanding. I asked if JPMorgan Chase, the purchaser of WaMu, would be taking over the entire space that had been occupied by the failed bank and Griffin replied, "TBD" (which I take to mean, "to be determined"). That's a lot of potentially vacant office space that could loom over SAM.
In addition, there's the little matter of $4.6 million in annual gross income that SAM had been receiving from WaMu for the lease of eight floors directly above the four-floor museum expansion. SAM had the future right to occupy those eight floors; WaMu (which also occupied the new 42-story office tower behind SAM) was to retain the use of the top four floors of the 16-floor building. Griffin said that "there are Change-of-Control Provisions in the lease agreement." In other words, SAM is hoping that JPMorgan Chase will honor WaMu's rental obligations.
Shortly before WaMu's collapse, Griffin had told Regina Hackett of the Seattle Post-Intelligencer: "Theoretically, if something were to happen to WaMu, if it's sold, then
WaMu's financial obligations become the responsibility of the new owner." This could be TBD too.
In conclusion, Griffin told me that the past SAM-WaMu relationship is causing "no evident repercussions right now"…
…except, perhaps, second thoughts in the museum world about teaming up with commercial entities for future expansions.
For a description of the original museum-bank deal (which, according to this account, had included construction loans from WaMu), go to Jim Brunner's detailed 2007 article in the Seattle Times.