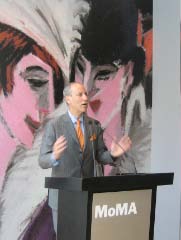 Number One: MoMA's director, Glenn Lowry
Patrick Cole in today's Bloomberg, citing this article in the Chronicle of Philanthropy (for which you'll need to purchase a day pass, if you don't subscribe), reports that the Museum of Modern Art's director, Glenn Lowry, was "the best-paid chief executive of
a U.S. nonprofit art institution last year, with a total
compensation package [including benefits and expense allowance] of $1.7 million in 2007."
I did searches on "art," "gallery" and "museum," regarding salaries (not counting any other perks), and found that these were the highest-paid art museum directors listed in the Chronicle's (incomplete) survey of data from 2007:
1) Glenn Lowry, MoMA
2) Peter Marzio, Houston Museum of Fine Arts
3) Philippe de Montebello, Metropolitan Museum
4) Malcolm Rogers, Boston Museum of Fine Arts
5) Michael Shapiro, High Museum
6) James Cuno, Art Institute of Chicago
7) (The late) Anne d'Harnoncourt, Philadelphia Museum
8) Marc Wilson, Nelson-Atkins Museum
In an interesting anomaly, Stephen Bertsler, chief investment officer of the Met, was higher salaried than de Montebello. Similarly, Patricia Woodworth (now at the J. Paul Getty Trust), who in 2007 was chief financial officer of the Art Institute of Chicago, made more than director James Cuno.
Where's the megabucks Getty Museum in all this? Director Michael Brand's compensation, as reported on the Getty Trust's website here, would certainly put him up there in the big leagues. There are a couple of other directors I can think of who also likely belong on the best-paid list, but somehow flew under the Chronicle's radar.